Artist Opportunities

CALL FOR WORK – "Home" Exhibition
Deadline: Sunday, March 29 11:55 pm
Description:
People from all socio-economic levels, religions and races call the Valley their home.  According to Census data released in 2019, Maricopa County continued its reign for the third straight year as the fastest growing county in the nation.  Whether transplants come from other counties, states or countries, they all have to acculturate in their own ways.  Some may assimilate to the prevailing cultures and embrace the new traditions, while others might seek out the refuge of their own ethnic communities.  Transversely, as a result of the rapid growth, lifelong residents may be impacted by the ever-shifting cultural and physical landscape surrounding them.  A once vacant lot may now be a high rise condominium building, driving the prices of rent up in the area.  New communities may be emerging and thriving, while others may feel disenfranchised due to the aggressive gentrification happening in their neighborhood.  Regardless of the length of time an individual has lived in the Valley, we all want the same thing—a place to call our own.   For this open call, the Vision Gallery invites cultural producers (artists, poets, performers) to explore the concept of home and how one perceives the notions of community and belonging.
Entry Requirements:
For a $5 fee, artists may submit up to 5 works via email with the subject "Home Exhibition" to vision.gallery@chandleraz.gov. Entries MUST be accompanied by the following information:
Artist name and contact info: Your name, email address, physical mailing address and cell phone number.
Images of artworks: one image per 2-D artwork, up to two images for 3-D artworks. Images should be .jpeg files, up to 3000 pixels in the longest direction, and no shorter than 1000 pixels in the shortest direction. This allows the images to be considered for printed marketing materials. ***Please include your images as attachments in your email – please do not embed them in the body of the email***. Please title digital files with your full name and the work's title. Example: Smith_Theresa_Cholla_det.jpg would indicate the piece titled: "Cholla", detail view by Theresa Smith.
Information and Description: A .pdf or .doc file describing the artworks which includes: artist name, piece titles, dimensions in inches (width x height), sale price (or "NFS" and insurance value), techniques/materials used, and a brief artist statement about your work as a whole. Please share whatever will help us understand your particular artwork and how it pertains to this exhibition.
Poets may submit up to 5 written works. For works longer than 2 pages, an excerpt will suffice. Performers may submit youtube, vimeo or other video links to performances.
Payment: the $5 submission fee can be paid either online at visiongallery.org or by calling 480-782-2695. Submissions are considered incomplete until the submission fee has been paid.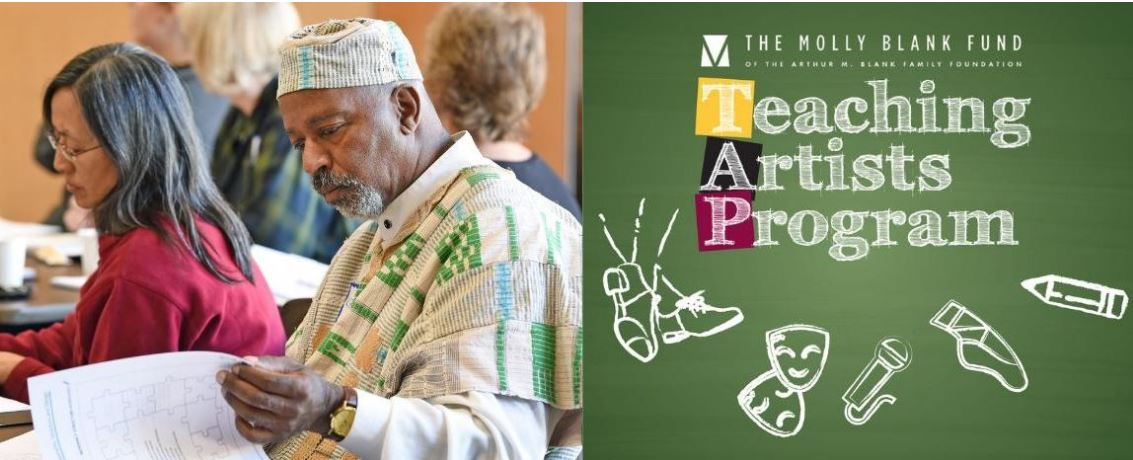 The Molly Blank Fund – Teaching Artists Program
Deadline: April 15, 2020
The Molly Blank Fund Teaching Artists Program (TAP) is designed to create teaching artists in the metro Phoenix area that have been trained in the Kennedy Center arts integration method. After training, these teaching artists will develop residency lesson plans that will be implemented in a classroom setting. TAP artists who fulfill all the program requirements will receive $500 upon completion of the program. TAP artists will also be listed on ASU Gammage's Teaching Artists Roster helping them to secure future teaching opportunities.
The program is limited to 30 – 40 local artists (both novice and experienced) who can commit to the entire program, which spans the 2020-2021 school year. Applications are due by April 15, 2020. Applicants will be notified by May 15, 2020.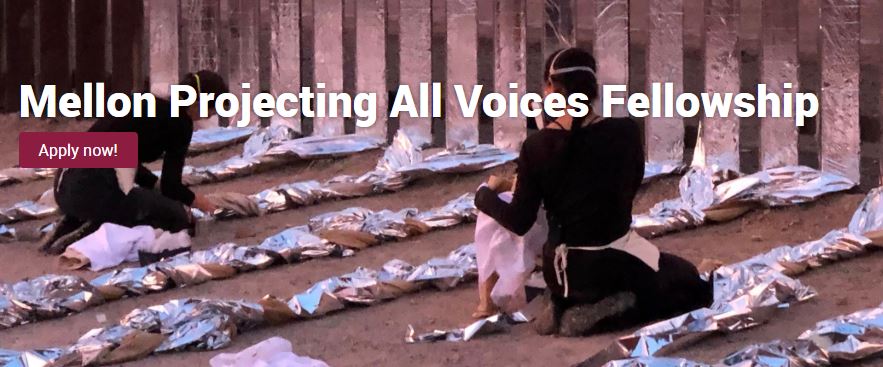 Trenzando, performance by former fellow Carolina Aranibar-Fernandez, supported by Projecting All Voices.
Photo (detail) by Katie Ann Franklin, image courtesy of the artist.
Mellon Projecting All Voices Fellowship
Deadline: March 15, 2020
Projecting All Voices (PAV), an initiative of the Herberger Institute for Design and the Arts supported by ASU Gammage, aims to support racial equity and inclusion in arts and design so that our nation's cultural life honors and represents the full creative diversity of our country's population. PAV provides opportunities for artists and designers to advance ideas and projects that investigate identity, cultural heritage, power, race, policy, ability and/or place and community. PAV also focuses on curricular change in arts and design colleges as well as civic and social practices in arts and design that create equitable communities. PAV seeks transformation in educational and cultural institutions to enable the full expression of all creative voices.
A program of PAV, the Mellon Fellowship supports underrepresented artists from the Southwest region who are interested in exploring issues of racial equity in the arts, engaging with an educational institution, and participating in an intergenerational mentorship cohort. Fellows will work with communities underrepresented in higher education and art institutions as that work relates to their own interests and creative practices. Fellows will also inform conversations about how educational and cultural institutions must adapt to prepare, support and advance the creative voices of a changing America through an equitable lens and framework of practice.
The Mellon Projecting All Voices Fellowship will take place between April 1, 2020 and June 30, 2021. The deadline to apply is March 15, 2020. Residency in Arizona during the fellowship is not required, but travel will be scheduled to visit the campus and learn from and with Arizona's communities during the fellowship as a requirement. The Mellon Projecting All Voices Fellowship is designated for artists whose artistic practice is rooted in the Southwest region (Arizona, Utah, Nevada, New Mexico, Colorado and First Nations within the geographic Southwest) who desire additional support in terms of mentorship, research, professional development, networking, instruction and opportunities to present or cultivate projects.
Unsolicited Exhibition Proposals
Unsolicited exhibition proposals for both the Vision Gallery and Chandler Center for the Arts Gallery are accepted for jury bi-annually during the months of January and June. Interested artists are encouraged to contact gallery staff prior to submission with any questions they may have. Gallery staff can be reached at vision.gallery@chandleraz.gov and 480-782-2695
Artists interested in being considered for exhibition must submit the following, collated into a
single PDF, to vision.gallery@chandleraz.gov.
Up to 10 digital images of artworks
Artist statement, resumé (including contact information), and biography
Narrative of up to 500 words explaining your exhibition concept, background, and any important details If the PDF is too large to send, artists can send a link to a folder on dropbox, google drive, or a similar cloud-based service.
Tips
Incomplete and improperly formatted applications may not receive a response
Small group exhibitions including 2-4 artists in different media organized around a common theme are more likely to be accepted than solo exhibitions. This benefits both the gallery and the artists as it attracts a wider variety of viewers, but still allows the artists to display a cohesive body of work, as opposed to individual objects.
Solo artists may still apply, but will be considered for both group and solo exhibitions.
The quality of your images matters. Make sure your photographs are in focus, well lit, and with a plain background. It is possible to take good photographs with your phone, but if you have a better option – use it!
We do not have a budget for shipping artwork. If you live outside of Arizona, it may be quite costly to get your artwork to and from the gallery.
Installation view of the exhibition Concerned, but Powerless, by artist Safwat Saleem
The Vision Gallery offers its Vision Kids Programs in a variety of media and all classes are taught by local professional artists. The classes are offered to the Phoenix metropolitan community free of charge to the participants, and are underwritten by individuals, corporations, and grant funding.
The Gallery at the Chandler Center for the Arts is curated by the Vision Gallery as part of the Arts Center Division of the City of Chandler. Both galleries are non-profit art galleries managed by the Chandler Cultural Foundation and host six to eight exhibitions per year.
Vision Gallery in the News
The Vision Gallery, Gallery at the CCA, and Chandler's Public Art program are regularly featured in local media outlets including the SanTan Sun News, Phoenix New Times, AZ Redbook, and KJZZ. Read recent stories and find links here.
Sign up for our latest newsletter to find out about upcoming exhibitions and events.