Artist Opportunities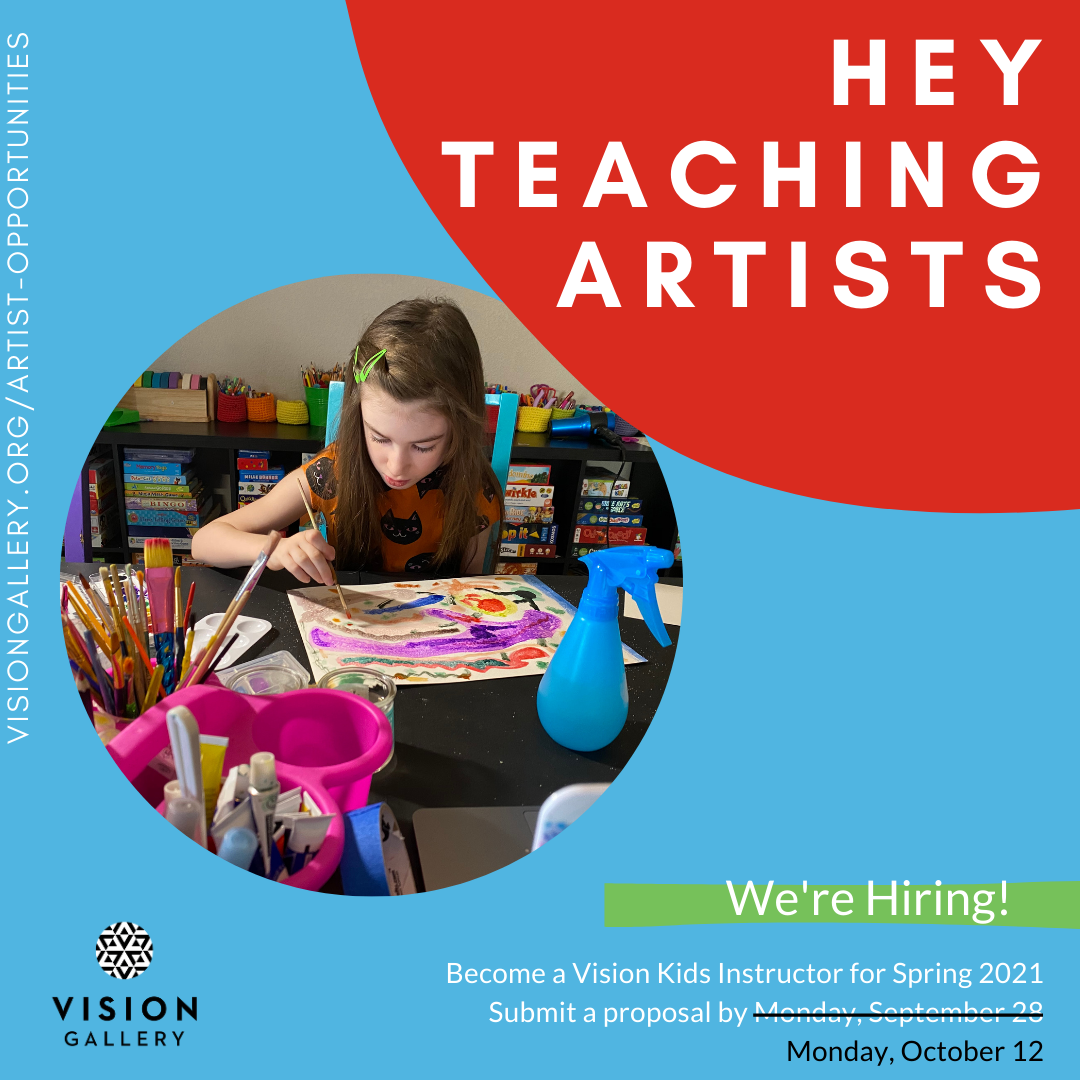 Deadline: Monday, September 28 Monday, October 12, 11:59pm MST (EXTENDED)
Vision Gallery is looking for proposals for our Spring 2021 Vision Kids season. You are invited to submit one or more proposals for individual, one-session classes you would like to teach.
Vision Kids has been central to Vision Gallery's programming since 1997. These visual arts classes for kids age 6 to 16 are free to anyone who would like to participate, providing important access to arts education that our community's youth may not be getting in school. We believe that all kids deserve an outlet to be creative.
Program Details
● We have extended the deadline to submit a proposal to Monday, October 12.
● Classes are 2 hours each, and are held in two separate sessions on Saturdays (10am –
12pm and 1pm – 3pm) with an hour break in between. Instructors will teach the same
class twice on the same day.
● Class projects must be completed in the 2-hour session.
● Vision Gallery will provide all supplies
● Teaching artists are paid a stipend of $100/teaching hour. Payment is made the week
following completion of the class, up to a total of $400.
● Due to the COVID-19 pandemic, we are planning for our Spring classes to happen via
Zoom. We will provide all necessary equipment to make this possible for instructors.
● Currently we are programming for January – June for 13 total class days.
Interested, but need more information? Does this sound daunting? Program coordinator Caroline is happy to answer any questions you have, go over your proposal info with you, and provide feedback. Please don't hesitate to reach out at 480-782-2695 or vision.gallery@chandleraz.gov.
Unsolicited Exhibition Proposals
Unsolicited exhibition proposals for both the Vision Gallery and Chandler Center for the Arts Gallery are accepted for jury bi-annually during the months of January and June. Interested artists are encouraged to contact gallery staff prior to submission with any questions they may have. Gallery staff can be reached at vision.gallery@chandleraz.gov and 480-782-2695
Artists interested in being considered for exhibition must submit the following, collated into a
single PDF, to vision.gallery@chandleraz.gov.
Up to 10 digital images of artworks
Artist statement, resumé (including contact information), and biography
Narrative of up to 500 words explaining your exhibition concept, background, and any important details If the PDF is too large to send, artists can send a link to a folder on dropbox, google drive, or a similar cloud-based service.
Tips
Incomplete and improperly formatted applications may not receive a response
Small group exhibitions including 2-4 artists in different media organized around a common theme are more likely to be accepted than solo exhibitions. This benefits both the gallery and the artists as it attracts a wider variety of viewers, but still allows the artists to display a cohesive body of work, as opposed to individual objects.
Solo artists may still apply, but will be considered for both group and solo exhibitions.
The quality of your images matters. Make sure your photographs are in focus, well lit, and with a plain background. It is possible to take good photographs with your phone, but if you have a better option – use it!
We do not have a budget for shipping artwork. If you live outside of Arizona, it may be quite costly to get your artwork to and from the gallery.
Installation view of the exhibition Concerned, but Powerless, by artist Safwat Saleem
The Vision Gallery offers its Vision Kids Programs in a variety of media and all classes are taught by local professional artists. The classes are offered to the Phoenix metropolitan community free of charge to the participants, and are underwritten by individuals, corporations, and grant funding.
The Gallery at the Chandler Center for the Arts is curated by the Vision Gallery as part of the Arts Center Division of the City of Chandler. Both galleries are non-profit art galleries managed by the Chandler Cultural Foundation and host six to eight exhibitions per year.
Vision Gallery in the News
The Vision Gallery, Gallery at the CCA, and Chandler's Public Art program are regularly featured in local media outlets including the SanTan Sun News, Phoenix New Times, AZ Redbook, and KJZZ. Read recent stories and find links here.
Sign up for our latest newsletter to find out about upcoming exhibitions and events.