Artist Opportunities
RFQ: Harter Park Mural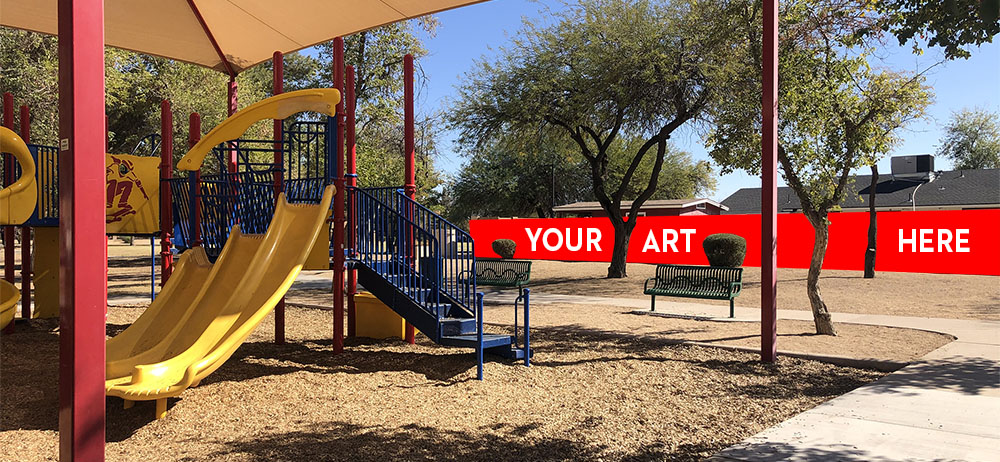 Request for Qualifications – Harter Park Mural
Deadline – Sunday, May 9, 11:55pm, Mountain Standard Time
Description
The City of Chandler Cultural Development Department is looking for a qualified artist or artist team to create a contemporary mural on a wall in Harter Park in West Chandler. The artist fee for the project is up to $5,000, which will cover all project costs including but not limited to: design, materials, installation, transportation, and insurance.
Special Considerations
The mural will be on a six foot tall cinderblock wall close to the playground in Harter Park, on the West Side of Chandler. The section of wall to be painted wall is roughly 80 feet wide. Some possible themes the neighborhood would like to see represented in the mural are:
• Unity
• Community
• Multi-generational
• Full circle
• Reading (due to the many little libraries around the neighborhood)
More details will be given to finalists at a site visit before they create their proposals. Based on the first round of submissions, three finalists will be selected, and will be paid a stipend to submit final designs. The committee will meet again to choose a final artist who will be contracted and paid to create their design.
Submission Criteria – All entries must include the following:
1. Current contact information including email and phone numbers
2. Artist / Artist team members' biographical information. Submit a current résumé or curriculum vitae (CV) including artist(s) accomplishments and contact information. Résumé or CV should not exceed four pages per artist team member.
3. Digital Images: Up to 10 images can be submitted per team and should be 1500 – 2000 pixels in the longest direction. A corresponding image list with all pertinent information is also required. Image list should include size, date completed, and materials used.
4. An introduction narrative not to exceed 500 words explaining your previous completed projects and any inspirations for this project.
All documents can be submitted via the webform linked below.
Hiring Vision Kids Instructors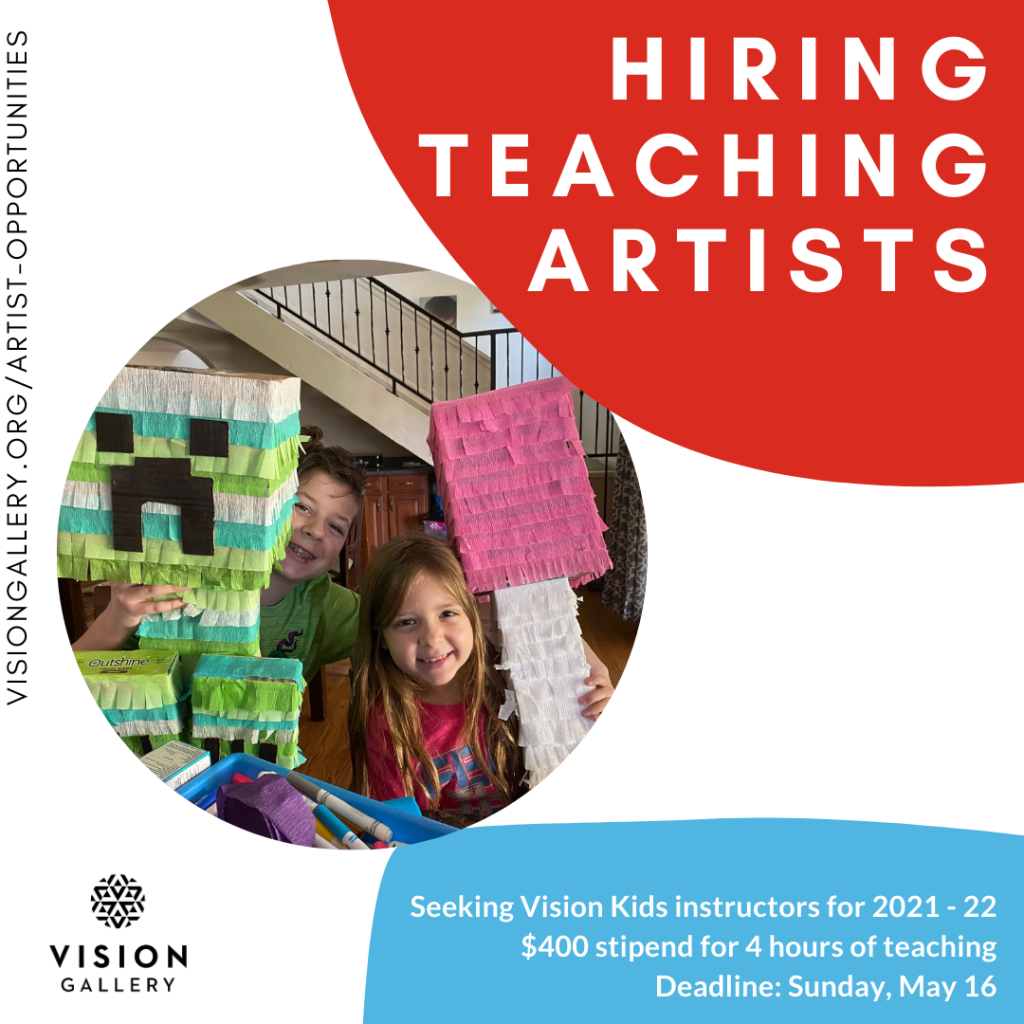 Deadline – Sunday, May 16 at midnight MST
Vision Gallery is looking for proposals for our 2021 – 22 Vision Kids season. You are invited to submit one or more proposals for individual, one-session classes you would like to teach.
Vision Kids has been central to Vision Gallery's programming since 1997. These visual arts classes for kids age 6 to 16 are free to anyone who would like to participate, providing important access to arts education that our community's youth may not be getting in school. We believe that all kids deserve an outlet to be creative.
Program Details
● The deadline to submit a proposal is Sunday, May 16.
● Classes are 2 hours each, and are held in two separate sessions on Saturdays (10am – 12pm and 1pm – 3pm) with an hour break in between. Instructors will teach the same class twice on the same day.
● Class projects must be completed in the 2-hour session.
● Vision Gallery will provide all supplies
● Teaching artists are paid a stipend of $100/teaching hour. Payment is made the week following completion of the class, up to a total of $400.
● Due to the COVID-19 pandemic, we are planning for our Fall 2021 classes to happen via Zoom. We will provide all necessary equipment to make this possible for instructors. We are hoping to be able to host our Spring 2022 classes in person, and it may be possible to shift from virtual to in-person classes sooner. We will be making this decision based on advice from leading health professionals and experts in our field, and will work with instructors on a case-by-case basis.
● Currently we are programming for July 2021 – June 2022.
Info Session
We hosted an info session about this opportunity on Saturday, May 1. If you missed it, you can view our slide presentation below.
Call to COC Employees – Off the Clock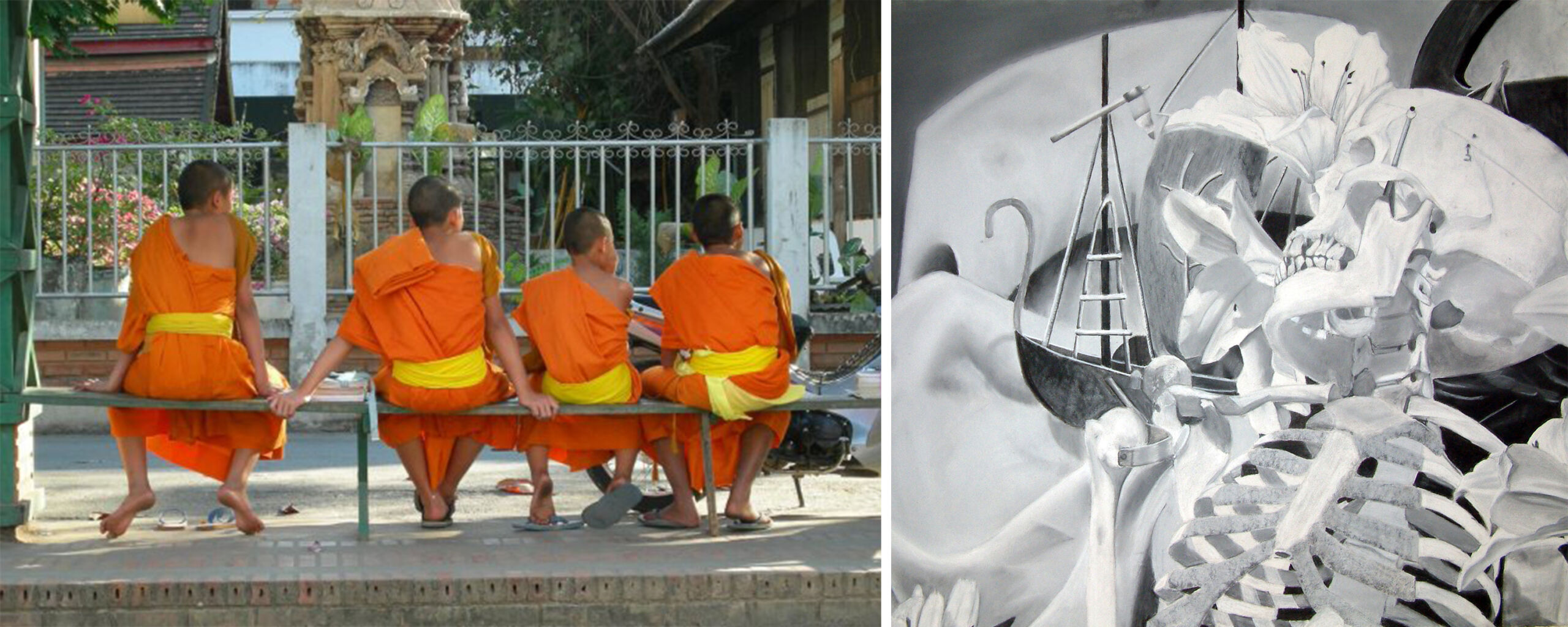 Deadline – Sunday, July 11 at midnight MST
This opportunity is only available for City of Chandler employees.
Are you a weekend wood worker? Free time photographer? Personal portrait painter? Stained glass stylist? Now is the time to share your artistic side with the city!
At the City of Chandler, we are fortunate to have myriad multi-talented individuals working all around us. While many of your coworkers' skills are visible in the office, some talents are not as obvious. Further, COVID's many restrictions have given many employees the opportunity to find new hobbies or rediscover old passions to pass the time. Off the Clock celebrates the artistic talents of our fellow City employees!
Each artist is allowed to submit up to five artworks for selection by Vision Gallery staff. Selected works must be exhibition-ready by August 13, meaning appropriately framed (if work is 2-dimensional) and ready for presentation. It is not recommended that artists frame their pieces prior to notification that their work has been selected. Please contact Vision Gallery staff with any questions at 480-782-2695.
ENTRY REQUIREMENTS
Artists must be current employees of the City of Chandler. Each submission may include up to 5 works. Please apply via the online submission form linked below, and have the following information handy:
– Your contact information
– JPG images of the artworks you are entering, up to 5. Please ensure the files are named like this: ArtistLastName_ArtworkTitle1.jpg, ArtistLastName_ArtworkTitle2.jpg
– A 5-sentence description of your artwork and why you make it (what inspires you, special processes you use, what you like to convey in your work, etc.)
– Detailed information about each piece you are submitting: title, medium, year created, sales price/insurance value, dimensions
Call to Artists – Art Quilts XXVI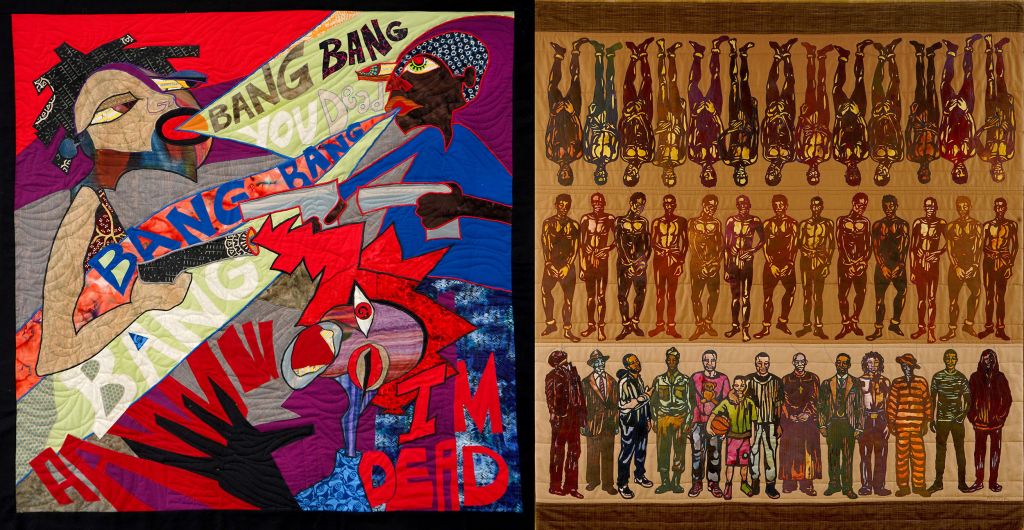 Art Quilts XXVI: Stitching Stories
Deadline – Monday, September 13, Midnight Mountain Standard Time
Juror: Ellen M. Blalock
Quilts and storytelling have always complemented one another. Quilts are blanketed in the oral tradition from construction and deconstruction to concept, purpose culture and history.
What stories do your quilts tell? Are they family stories? Utilitarian stories? Animal stories? Travel stories? Maybe a concept? Or maybe, "I got mad and cut it all up and sewed it back together" stories? Regardless of whether the narrative lies in the imagery of the quilt, the process in which you made it, or the significance of design or purpose, we want to see your story quilts.
About the Juror
Ellen M. Blalock started quilting over 20 years ago to replace what was taken from her family. As a narrative artist and documentarian, she works in several mediums: quilting, photography, film/video, and drawing. Her main goal is to tell the stories of people that have been marginalized. She is particularly interested in female identity and power and the African diaspora.
Originally from Philadelphia, PA, Blalock now lives in Syracuse, NY. She has a B.F.A. from Temple University and M.F.A. from Syracuse University. She lectures on art/quilting, race and social issues. She has taught art history and studio arts at colleges and universities: Syracuse University, Georgia Southern University, Georgia College & State University, and Onondaga Community College.
Her art quilts have been exhibited in several solo and group exhibitions, including: Gibbs Museum, Charleston, SC; Bundy Museum, Binghamton, NY; Schweinfurth Memorial Art Center, Auburn, NY; Natural History Museum, Los Angeles, CA; The African American Museum, Philadelphia, PA and Everson Museum of Art, Syracuse, NY.
Blalock has received several awards, grants, fellowships and residencies and she serves on the Syracuse Public Arts Commission.
How to Submit
For a $15 fee, artists may submit up to 3 works for consideration. Please follow these instructions:
Complete artist submission form

Please complete the online submission form with all of the information relevant to your submission including contact and title card information. You will need the following: title, medium, year created, and sales price for all three artworks, and an artist statement with any information you think will be relevant to the juror.

Email vision.gallery@chandleraz.gov with images of the quilts you are submitting. For each submitted work, include a full view and a detail view. Images should be .jpeg files up to 3000 pixels in the longest direction, and no shorter than 1000 pixels in the shortest direction. This allows the images to be considered for printed marketing materials. ***Please include your images as attachments in your email – please do not embed them in the body of the email***. Please title digital files with your full name and the work's title. Example: Smith, Theresa_Cholla_det.jpg would indicate the piece titled: "Cholla", detail view by Theresa Smith.
Payment: the $15 submission fee can be paid either online via the button below or by calling 480-782-2695. Submissions are considered incomplete until the submission fee has been paid.
Unsolicited Exhibition Proposals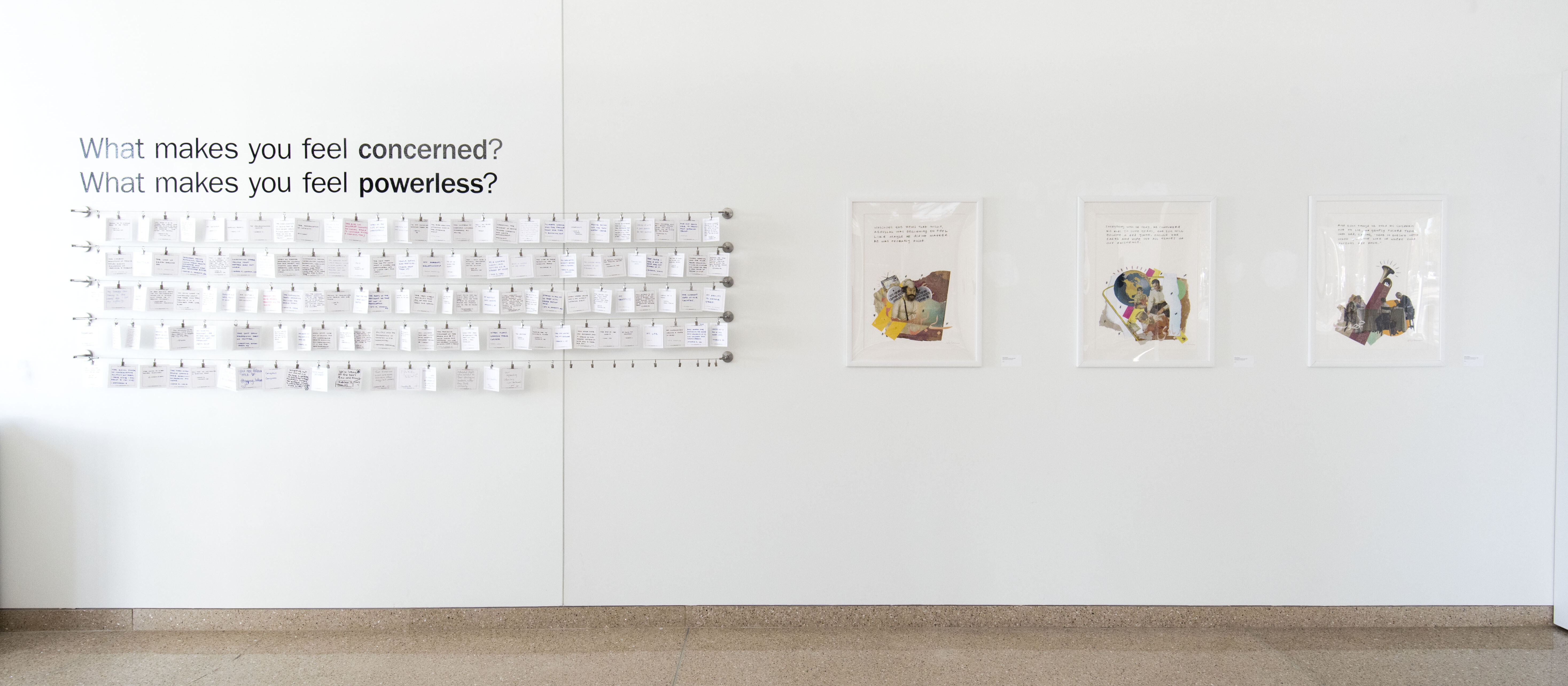 Installation view of the exhibition Concerned, but Powerless, by artist Safwat Saleem
Are you interested in showing your work at Vision Gallery or the Chandler Center for the Arts? We always accept exhibition proposals for both spaces and jury them on a rolling basis during the months of January and June. Please click the button below to access our submission form.
Interested artists are encouraged to contact gallery staff prior to submission with any questions they may have. Gallery staff can be reached at vision.gallery@chandleraz.gov and 480-782-2695.
Tips
Incomplete and improperly formatted applications may not receive a response
Small group exhibitions including 2-4 artists in different media organized around a common theme are more likely to be accepted than solo exhibitions. This benefits both the gallery and the artists as it attracts a wider variety of viewers, but still allows the artists to display a cohesive body of work, as opposed to individual objects.
Solo artists may still apply, but will be considered for both group and solo exhibitions.
The quality of your images matters. Make sure your photographs are in focus, well lit, and with a plain background. It is possible to take good photographs with your phone, but if you have a better option – use it! Here is a good tutorial for taking quality pictures of your artwork with a smartphone.
We do not have a budget for shipping artwork. If you live outside of Arizona, it may be quite costly to get your artwork to and from the gallery.
Take a look at our past exhibitions to get a feel for the kinds of shows we host.
If your primary goal is selling artwork, we might not be the right gallery for you. Although we are thrilled when artwork sells, our focus is on hosting engaging, thought-provoking exhibitions for our community to enjoy and not commercial sales.
The Vision Gallery offers its Vision Kids Programs in a variety of media and all classes are taught by local professional artists. The classes are offered to the Phoenix metropolitan community free of charge to the participants, and are underwritten by individuals, corporations, and grant funding.
The Gallery at the Chandler Center for the Arts is curated by the Vision Gallery as part of the Arts Center Division of the City of Chandler. Both galleries are non-profit art galleries managed by the Chandler Cultural Foundation and host six to eight exhibitions per year.
Vision Gallery in the News
The Vision Gallery, Gallery at the CCA, and Chandler's Public Art program are regularly featured in local media outlets including the SanTan Sun News, Phoenix New Times, AZ Redbook, and KJZZ. Read recent stories and find links here.
Sign up for our latest newsletter to find out about upcoming exhibitions and events.