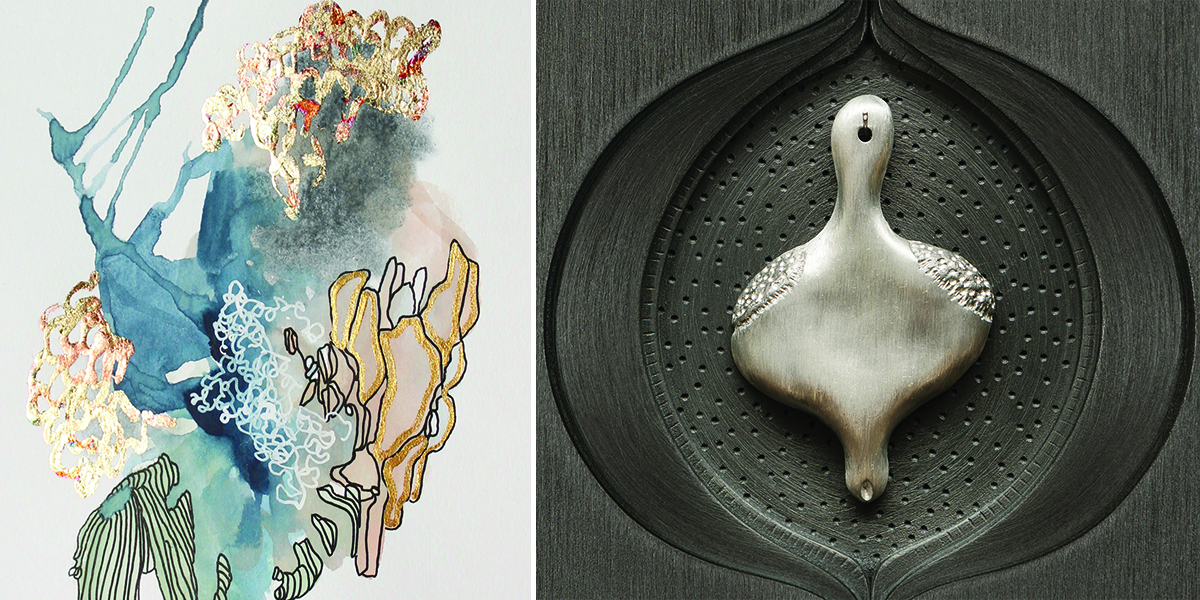 Approaching the Natural: Artwork by Mary Meyer and Aimee Ollinger
March 6, 2021

-

April 10, 2021

|

Free
Image: Aimee Ollinger (left), Mary Meyer (right)
For millennia, humans have tried to replicate nature through scientific and artistic means. However, the fallible nature of human hands never allows us to fully capture the intrinsic beauty of nature.  Artworks by Mary Meyer and Aimee Ollinger continually approach the natural, with their splendor lying in the artists' reinterpretation of the organic forms. Meyer's reliefs and wall sculptures attempt to understand the symmetry in nature and how the forms relate to and are similar to the human body. Ollinger's embroidery and mixed media work seeks to understand the macroscopic and microscopic by controlling the entropic nature of various organic forms. By placing these artists beside one another, Approaching the Natural quietly expresses the diverse beauty that lies in nature from the hard curved edges in Meyer's sculptures to the free flowing lines in Ollinger's work.
Metro Phoenix EcoFlora
This exhibition is produced in collaboration with Metro Phoenix EcoFlora, a program of the Desert Botanical Garden that invites neighborhood naturalists to participate in studying urban biodiversity. Read on to learn more about how you can get involved with this fun project!
Reception – Now In Person
Join us for an in-person reception with the artists on Saturday, April 10 from 2 – 4pm! Both artists will be in attendance. This will not be a timed entry event, but please RSVP if you plan to attend.
If you are unable to attend the reception, Aimee and Mary participated in a monthly presentation called EcoQuestions hosted by EcoFlora, and shared some wonderful insights about their artwork and process. This presentation is available for you to watch online any time.
Exhibition Photos
Get Involved with EcoFlora
Inspired by this exhibit? Become a neighborhood naturalist! Phoenix Metro EcoFlora needs your help recording urban biodiversity. It's easy to make scientific observations of the plants and animals in your area! Click the button below to learn more.