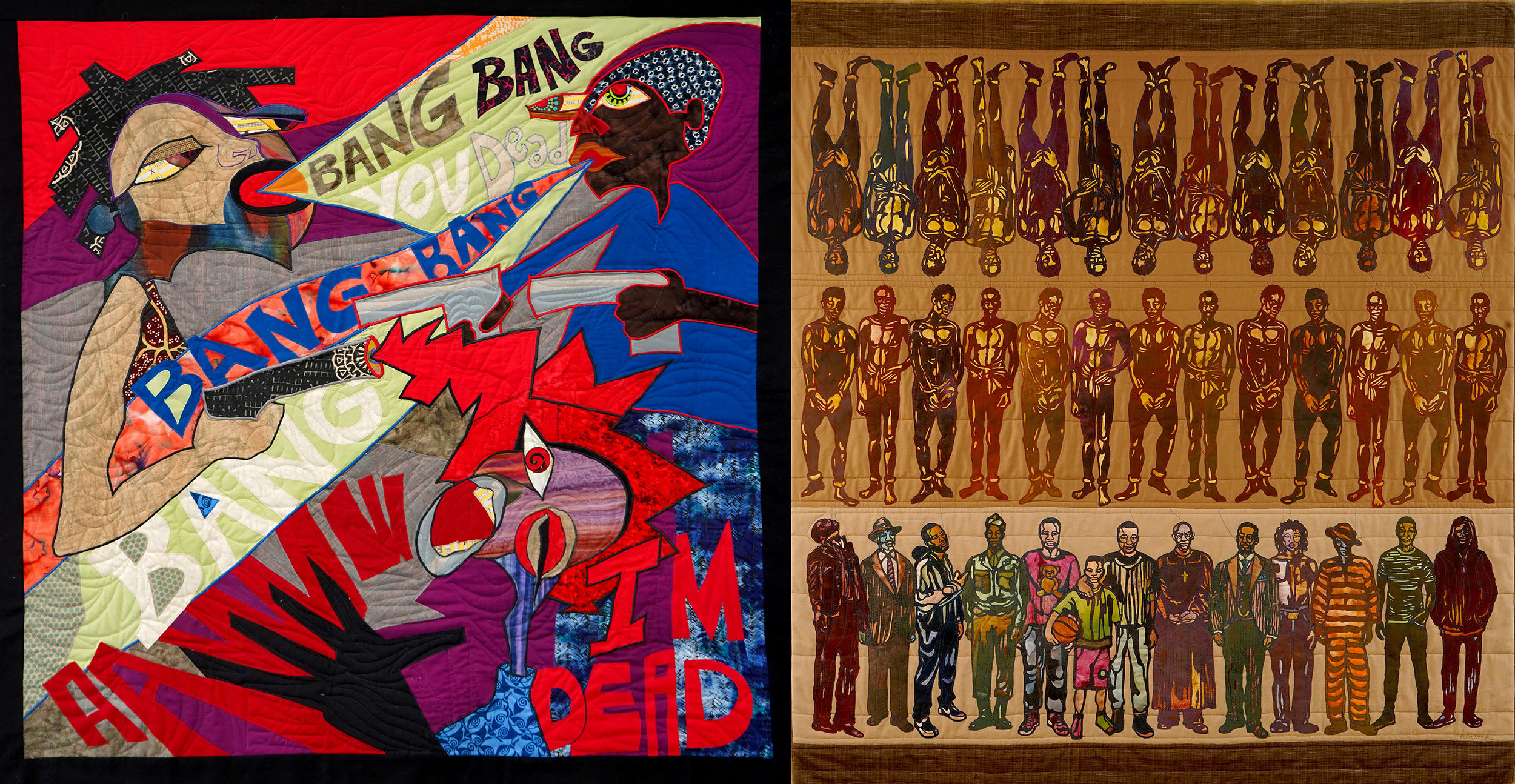 Art Quilts XXVI: Stitching Stories
November 20, 2021

-

January 8, 2022

|

Free
Left: Ellen M. Blalock, Bang Bang You Dead, quilt, commercial cotton fabric, 2019, 44″ x 43"
Right: Ellen M. Blalock, Middle Passage: America's Legacy, quilt, hand painted silk and nonwoven pellon on canvas, 2020, 56 ¼" x 52"
Quilts and storytelling have always complemented one another. Quilts are blanketed in the oral tradition from construction and deconstruction to concept, purpose culture and history.
What stories do your quilts tell? Are they family stories? Utilitarian stories? Animal stories? Travel stories? Maybe a concept? Or maybe, "I got mad and cut it all up and sewed it back together" stories? Regardless of whether the narrative lies in the imagery of the quilt, the process in which you made it, or the significance of design or purpose, we want to see your story quilts.
Call for Work
The call for work for this exhibition is now closed. Check back later this month to see the accepted entries!
About the Juror
Ellen M. Blalock started quilting over 20 years ago to replace what was taken from her family. As a narrative artist and documentarian, she works in several mediums: quilting, photography, film/video, and drawing. Her main goal is to tell the stories of people that have been marginalized. She is particularly interested in female identity and power and the African diaspora.
Originally from Philadelphia, PA, Blalock now lives in Syracuse, NY. She has a B.F.A. from Temple University and M.F.A. from Syracuse University. She lectures on art/quilting, race and social issues. She has taught art history and studio arts at colleges and universities: Syracuse University, Georgia Southern University, Georgia College & State University, and Onondaga Community College.
Her art quilts have been exhibited in several solo and group exhibitions, including: Gibbs Museum, Charleston, SC; Bundy Museum, Binghamton, NY; Schweinfurth Memorial Art Center, Auburn, NY; Natural History Museum, Los Angeles, CA; The African American Museum, Philadelphia, PA and Everson Museum of Art, Syracuse, NY.
Blalock has received several awards, grants, fellowships and residencies and she serves on the Syracuse Public Arts Commission.