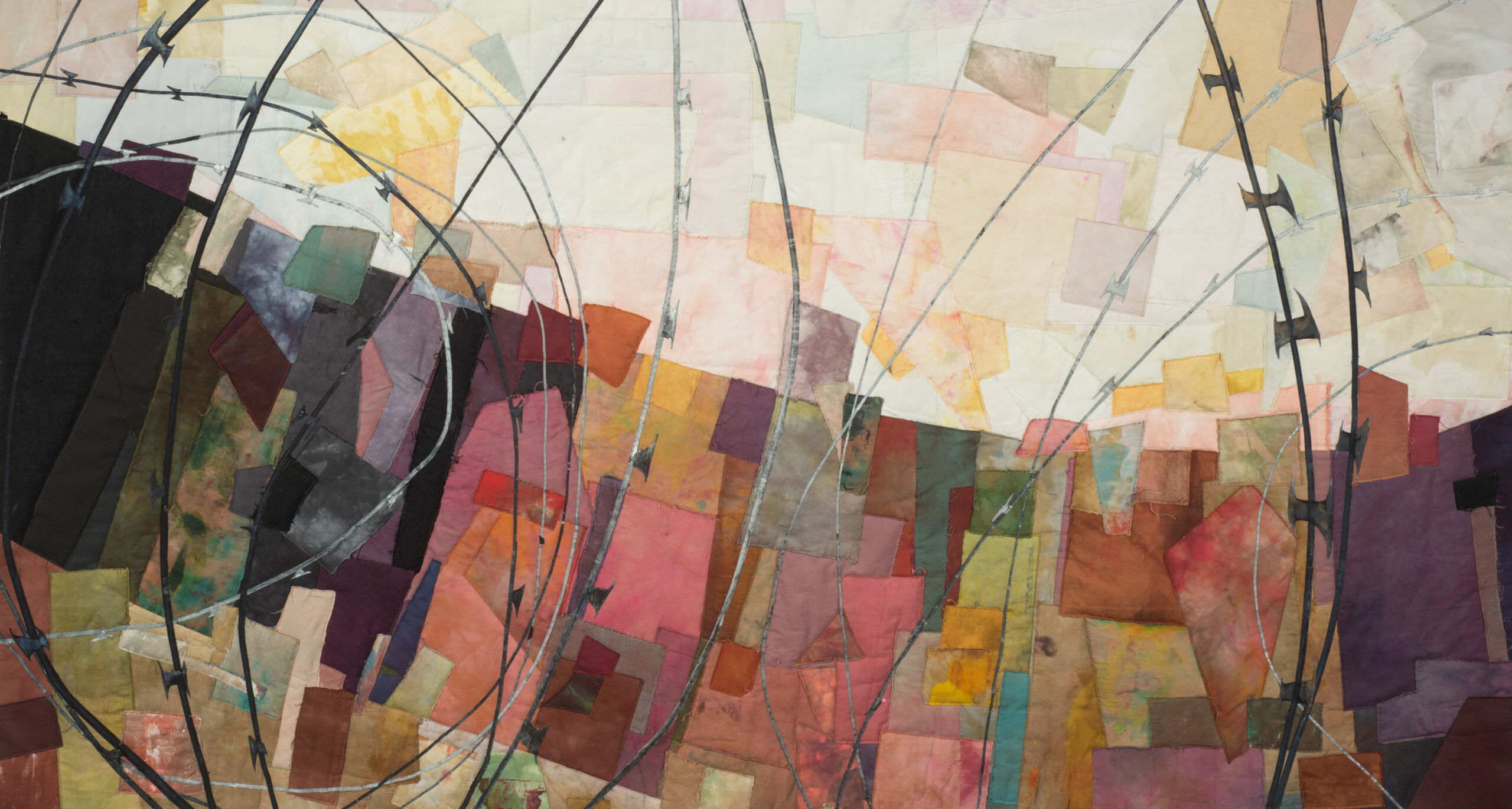 Art Quilts XXVI: Stitching Stories
November 20, 2021

-

January 8, 2022

|

Free
Jo Thomas, [camp]
Quilts and storytelling have always been interwoven. From construction and deconstruction to concept, purpose, culture and history, quilts are blanketed in the oral tradition. They have long been a way for people to commemorate feelings and memories in a medium that holds cultural significance.
The quilts in this exhibition tell family stories, utilitarian stories, stories of love and heartbreak, stories of history, and much more. Their narratives can be found in the imagery of the quilt, the process in which it was made, or the significance of design or purpose. No matter the method of creation, each one has a story to share.
This year, our beloved annual exhibition was juried by the venerable artist, quilter, documentarian, and educator, Ellen Blalock, whose work focuses on giving voices to people and communities who need their stories told. It features 64 story quilts made by 53 artists from all over the country, and is on display at both Vision Gallery and the Chandler Center for the Arts. Visit both venues to experience the full exhibition!
Exhibiting Artists
Karen Adams, Lisa Marie Barber, Mary Beth Bellah, Boisali Biswas, Betty Busby, Patricia Charity, Holly Cole, Linda Colsh, Annemarie Comes, Gerrie Congdon, Shannon Conley, Vicki Conley, Louise Davis (Davis), Deb Deaton, Sandra Townsend Donabed, Diane English, Laurie Fagen, Jayne Bentley Gaskins, Claire Gimber, Nancy Green, Barbara Hall, Marla Hattabaugh, LeAnn Hileman, Janet Hiller, Barbara Jakucki, Marie Shirley-Jones, Asake Denise Jones, Patty Kennedy-Zafred, Anne King, Kathy Knapp, Ingrid Lincoln, Valerie Maser-Flanagan, Linda McCurry, Margot McDonnell, Amanda Miller, Carol Miraben, Anne Moats, Frances Murphy, Kathy Nida, Frauke Palmer, Janet Pugh, Wen Redmond, Judith Roderick, Shelley Rothgeb, Brenda H Smith, Aimee Smythe, Jo Thomas, Ann Turley, Mary Vaneecke, Claire Victor, Shelly White, Sally Gould Wright, Heidi Zielinski
About the Juror
Ellen M. Blalock started quilting over 20 years ago to replace what was taken from her family. As a narrative artist and documentarian, she works in several mediums: quilting, photography, film/video, and drawing. Her main goal is to tell the stories of people that have been marginalized. She is particularly interested in female identity and power and the African diaspora.
Originally from Philadelphia, PA, Blalock now lives in Syracuse, NY. She has a B.F.A. from Temple University and M.F.A. from Syracuse University. She lectures on art/quilting, race and social issues. She has taught art history and studio arts at colleges and universities: Syracuse University, Georgia Southern University, Georgia College & State University, and Onondaga Community College.
Her art quilts have been exhibited in several solo and group exhibitions, including: Gibbs Museum, Charleston, SC; Bundy Museum, Binghamton, NY; Schweinfurth Memorial Art Center, Auburn, NY; Natural History Museum, Los Angeles, CA; The African American Museum, Philadelphia, PA and Everson Museum of Art, Syracuse, NY.
Blalock has received several awards, grants, fellowships and residencies and she serves on the Syracuse Public Arts Commission.
Join Blalock for a virtual artist talk on her work and studio practice on Thursday, December 2! RSVP here to attend.
Opening Reception
Saturday, November 20, 4-6pm
Vision Gallery and Chandler Center for the Arts
Join the artists to celebrate the opening of this exhibition! Visitors are encouraged to travel between both galleries, which are less than a mile apart on Arizona Avenue. In light of the ongoing pandemic, we request that everyone wear a well-fitting mask covering both nose and mouth regardless of vaccination status.