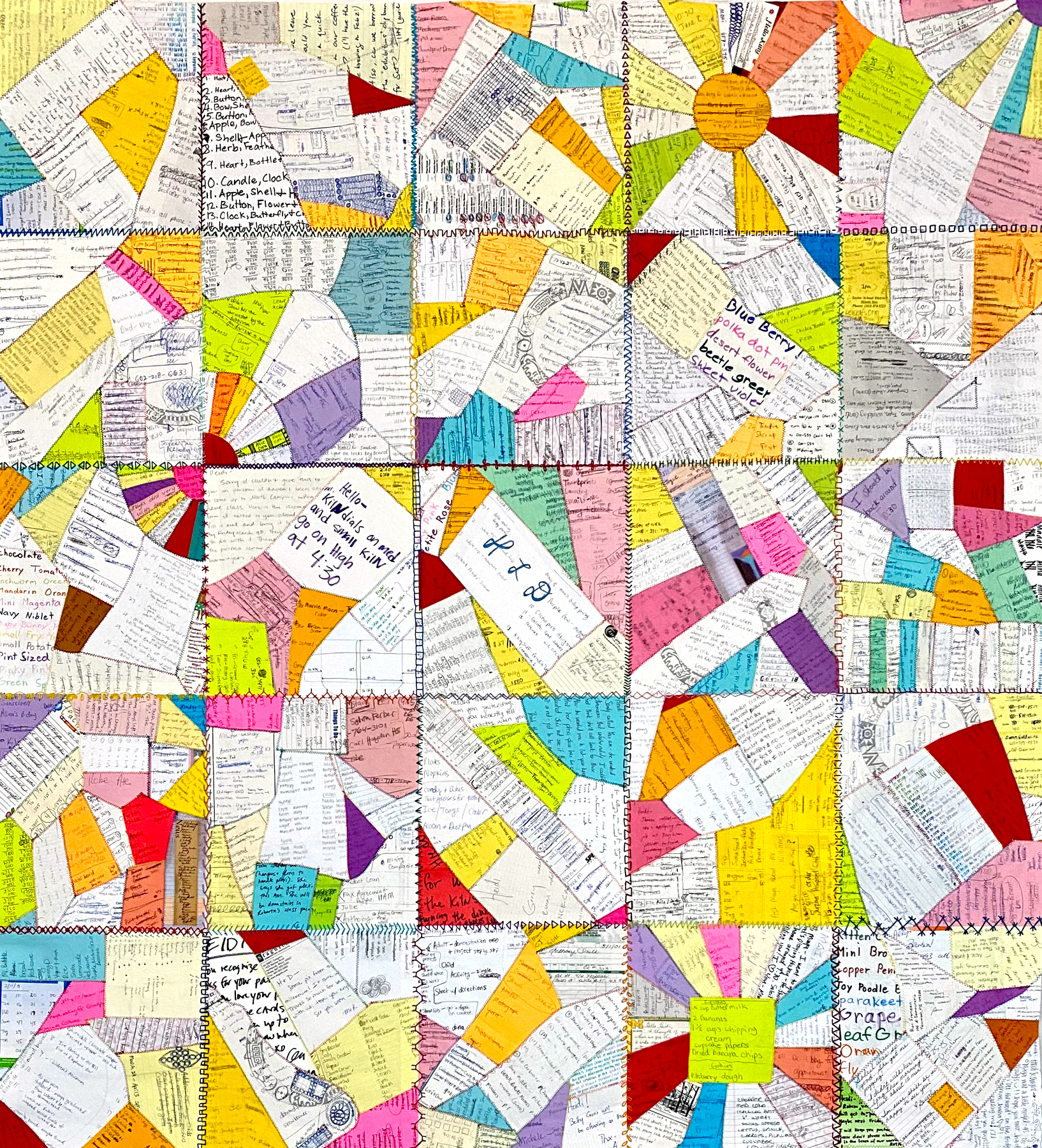 Art Quilts XXVII: Re-Vitalized!
November 19, 2022

-

January 7, 2023
Heidi Dauphin, Great Grandma's Crazy Quilt Transformed, Paper lists/Notes, stitching, embroidery, fabric, 2020-2022
Re-Vitalized!, our 27th annual Art Quilts exhibition, encouraged art quilters to create artworks from previously discarded, recycled, and repurposed materials. Featuring 41 quilts from 25 artists from all over the country, this exhibition demonstrates the vast artistic potential of unwanted and/or recycled objects.
All of the quilts in Re-Vitalized! consist of at least 50 percent repurposed materials. Some of the numerous recycled materials include photographs, bedsheets, clothing, CDs, dryer sheets, vintage textiles, feed sacks in the tradition of the 1930's, and even reimagined old quilts. These artists prove that with some creativity, there is no shortage of possibilities for making use of the things we might otherwise throw away.
This exhibition was juried by Shin-hee Chin, a fiber/mixed-media artist and Professor in the Visual Art Department at Tabor College. Chin often uses repurposed fabric, paper, and other recycled material in her artwork. Her work has been exhibited nationally and internationally, including the Textile Museum at Washington DC, Metropolitan Art Museum, Tokyo, Japan, the Palais des Nations (United Nations' headquarters building), Geneva, Switzerland, and Uijeongbu Arts Center, Seoul, South Korea. She had a solo exhibition, entitled Embracing Identity in Diaspora, at the Seoul Arts Center in 2019.
Exhibiting Artists
Lisa Marie Barber, Gay Bitter, Sandra Branjord, Linda Colsh, Vicki Conley, Heidi Dauphin, Sandra Townsend Donabed, Diane English, Linda Engstrom, Laurie Fagen, Karen Flamme, Jo Ho, Barbara Jakucki, Margit Kagerer, Patty Kennedy-Zafred, Linda McCurry, Lena Meszaros, Anne Muñoz, Karena Nelson, Wen Redmond, Marie Shirley-Jones, Aimee Smythe, Lynn Welsch, Rosanna Lynne Welter, Shelly White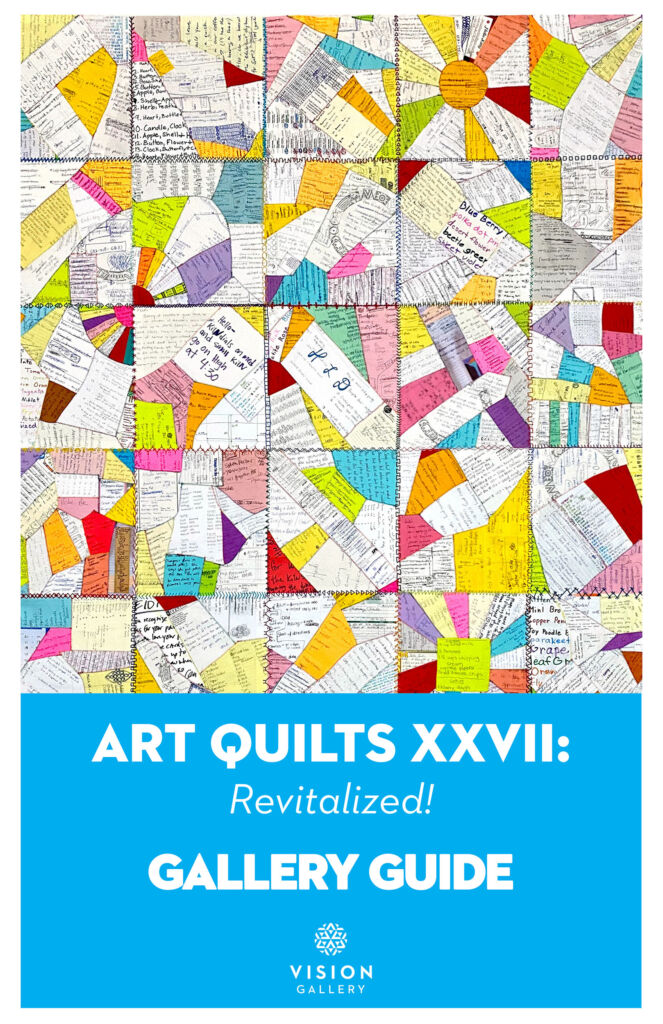 Gallery Guide
Explore further into Art Quilts XXVII: Re-vitalized! with our Gallery Guide! This printable postcard features a link to a presentation exploring the themes of the show, puzzle activities, a craft to do at home, and a discussion question. Printed copies are available for free at Vision Gallery for the duration of the show.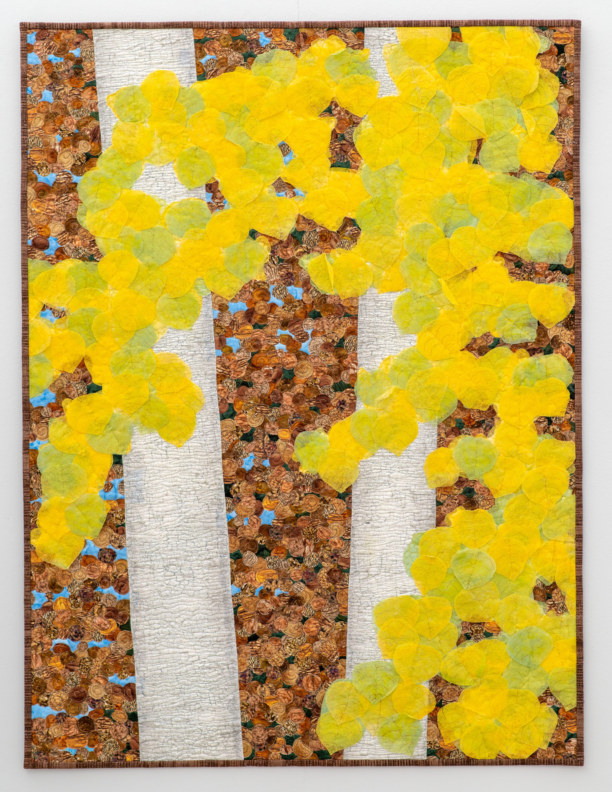 Art Quilts XXVII: Revitalized Catalogue
Take the exhibit home with you! This 8.5×11 catalogue features images of all of the quilts in the exhibition, along with artist statements and gallery views. Prints on demand from Blurb for $24.95.