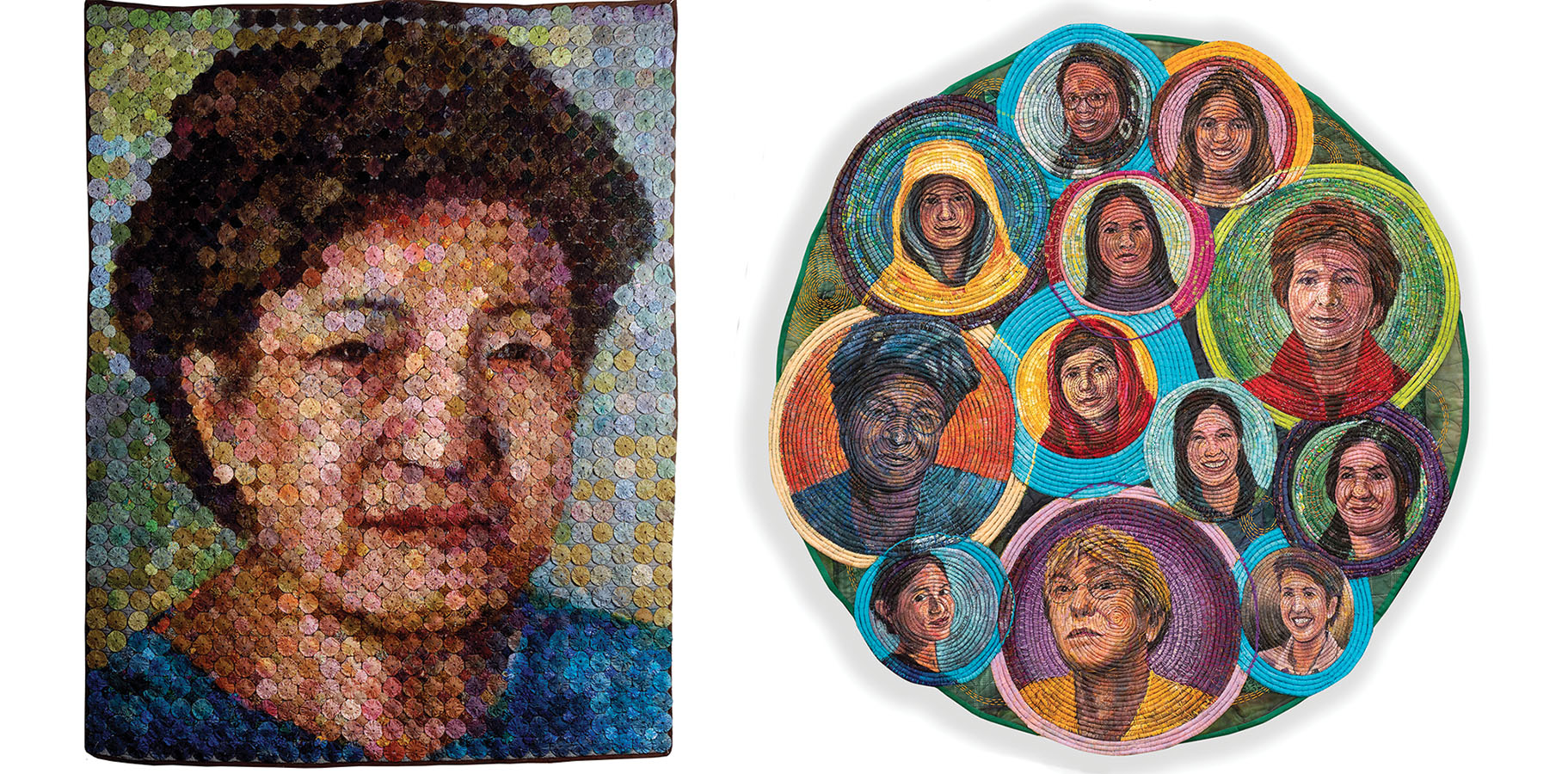 Art Quilts XXVII: Re-Vitalized!
November 19, 2022

-

January 7, 2023
Shin-hee Chin, Spring Mountain (Choonsan), recycled fabric, dyed, Yo yo quilt, hand stitched, 48″ x 60″, 2008
Shin-hee Chin, The Future is Female, cotton, recyled fabric, twisted fabric cords, hand quilted, 52″ x 52.5″, 2020
Art Quilts XXVII
Juror: Shin-hee Chin
Deadline – Monday, September 12
11:59 p.m. Mountain Standard Time
The call for our annual Art Quilts exhibition is open! Submit your best quilts related to this theme by Monday, September 12. The exhibition will be on display at Vision Gallery from November 19, 2022 – January 7, 2023.
For our 27th annual Art Quilts exhibition, the theme is "Re-Vitalized!" The primary purpose of this exhibit is to encourage art quilters to create art works from previously discarded, recycled, and repurposed materials. This is an opportunity for quilters to demonstrate the plentiful, or even infinite artistic potential of the devalued aspects of unwanted and/or recycled objects.
To be eligible for Re-Vitalized!, the art quilt should incorporate recycled and repurposed materials into the quilt, which consist of at least 50 percent of the presentation. Recycled and repurposed materials may be made of any materials, including but not limited to fabric, threads, clothes, paper, and buttons. Prizes will be awarded based on the artistic merit of the works along with the creativity and innovation.
Fiber artists from across the country and abroad are invited to submit to this annual exhibition of contemporary art quilts, showcasing some of the finest textile art on display in the Southwestern United States. This exhibition will take place at the Vision Gallery and is expected to draw hundreds of visitors to experience quilting as an art form.