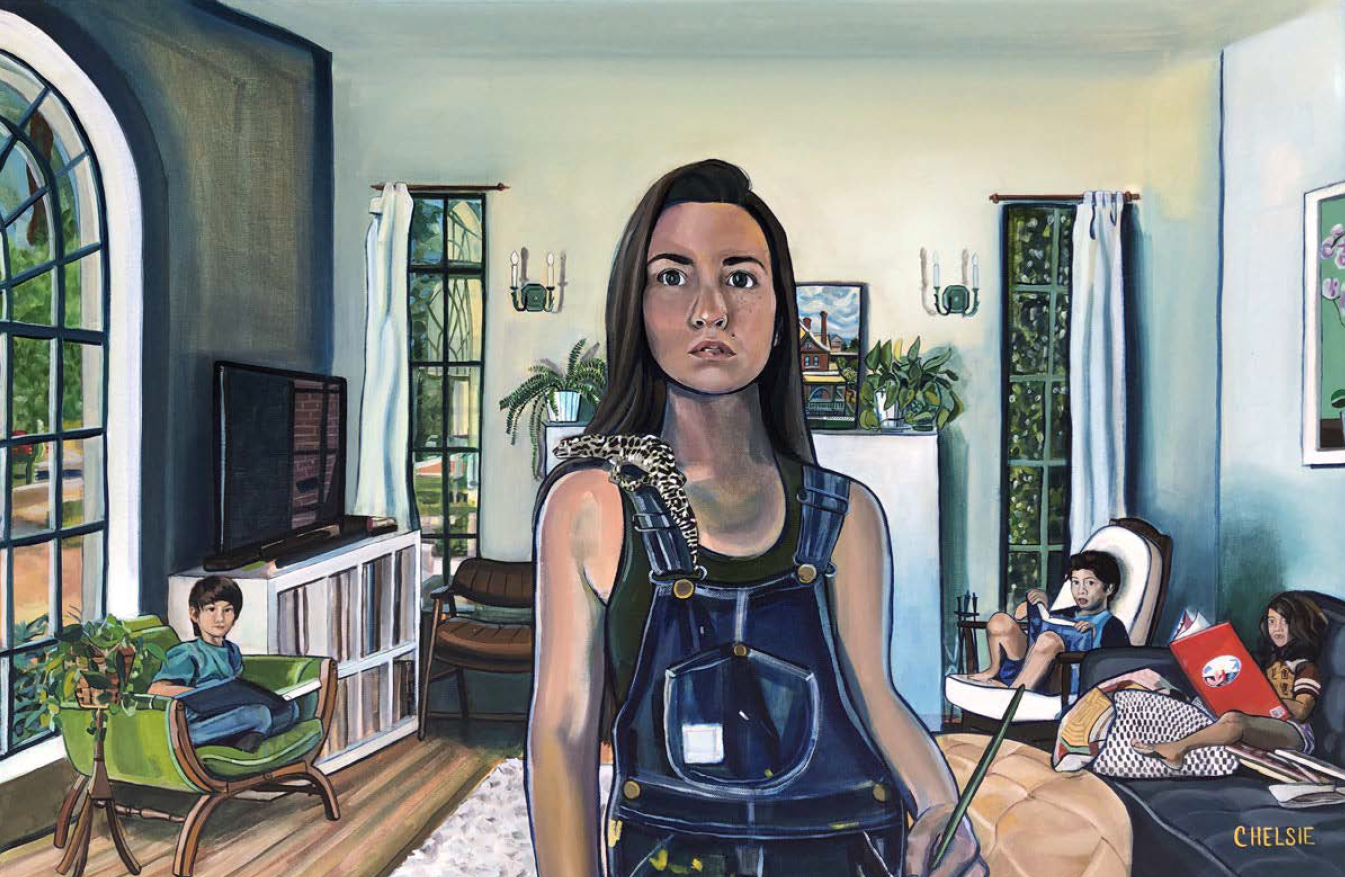 Inward Shift/Outward Gaze: Chelsie Tamala & Cam DeCaussin
August 26, 2022

-

November 10, 2022

|

Free
At the beginning of the pandemic, the landscape of our daily lives went through a dramatic shift. Most of us spent substantially more time in our homes. The spaces that were once a refuge from our public lives became home offices, restaurants, movie theaters, and childcare centers. As many aspects of life merged into one physical space, mothers and other caregivers felt the strain of needing to do it all. Artist and mother Chelsie Tamala felt this shift in her own life as she took care of her three kids. Each day felt like a balancing act, and as she began talking to other mothers, she realized they too were experiencing similar struggles and triumphs. Mothers is a series of paintings celebrating these strong women in their domestic spaces as they helped their families adapt to the "new normal." While Tamala's work gives an intimate glimpse into people's domestic interior lives, Cam DeCaussin's paintings take a different approach. In the Spring of 2020, nightly strolls through the neighborhood became a way to get exercise, a reason to leave the house, and one of the few ways to safely interact with others from a distance. DeCaussin took inspirations from these walks, painting eerily vacant or solitary exteriors, echoing the isolation and loneliness of that time. In both artists' paintings, viewers can sense the stillness and introspection many felt during this time of great change, which still echoes through our lives today.
Opening Reception
Friday, August 26, 6-8pm
Enjoy artworks by Chelsie Tamala & Cam DeCaussin and share your story of how you made it through the early days of the pandemic.
Gallery Guide
Dive in to Inward Shift/Outward Gaze with our Gallery Guide! This printable postcard features a link to a presentation exploring the themes of the show, puzzle activities, a craft to do at home, and a discussion question. Printed copies are available for free at Vision Gallery for the duration of the show.