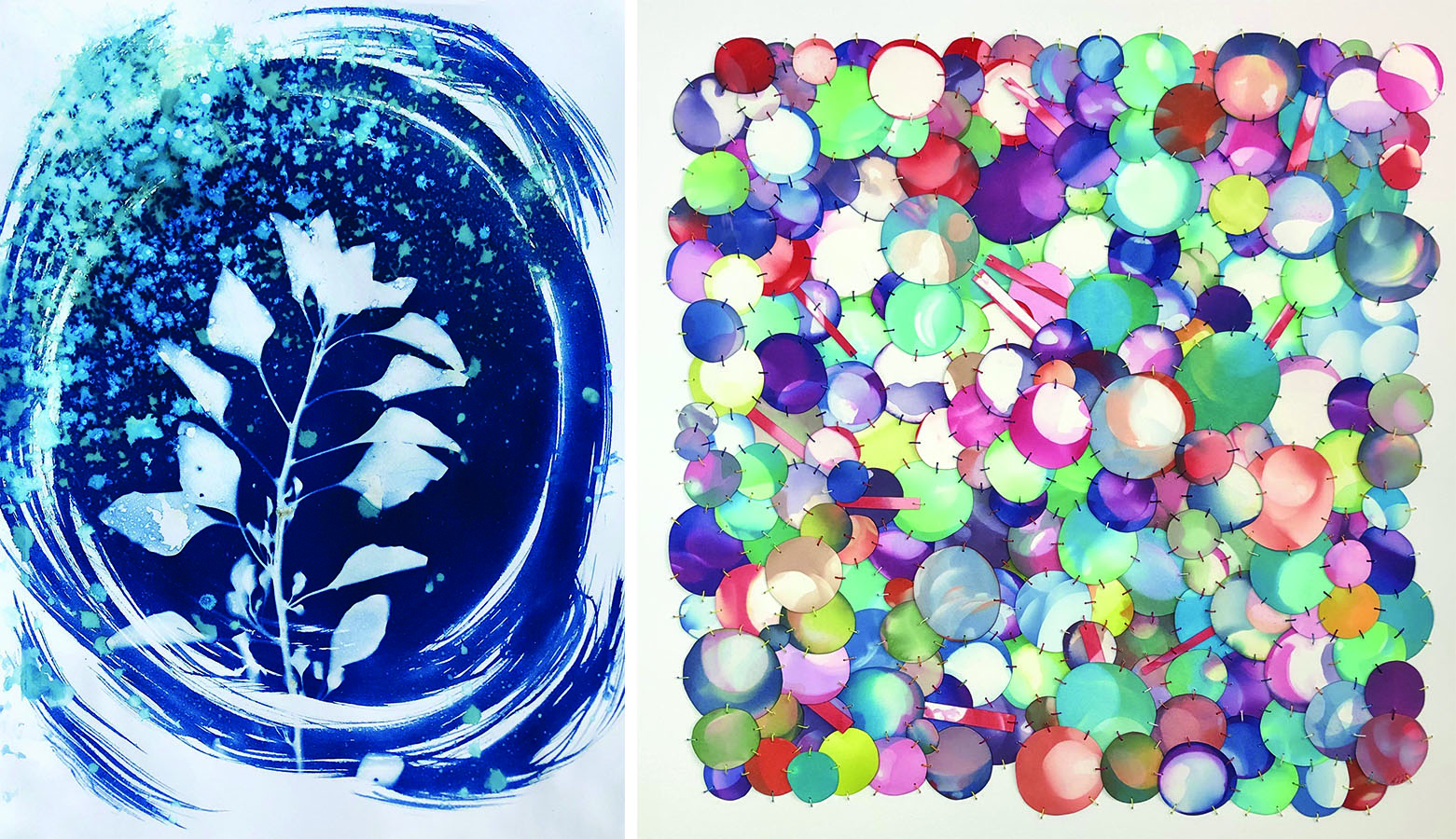 Out of the Blue
May 21, 2022

-

July 30, 2022

|

Free
(Left) Jeny Davis, Brittlebush Whirl, Cyanotype with alterations, 2020, 12″ x 16″
(Right) Sami Lange, A Beautiful Life, Paper, dye, thread & tape, 2021, 20″ x 20″
It's a cool, cool summer. Okay, maybe not in Phoenix, but this summer the Chandler Center for the Arts invited artists from across Arizona to submit cool-tone artwork for our annual open call exhibition. As a reprieve from the brutal summers here in the Valley of the Sun, we are exhibiting artwork of all kinds, from photographs to installations, that spotlight the color blue.
Exhibiting Artists
Amanda Adkins, Bailey Anderson, John Bedard, Bjorn Bengtsson, Janet Blumenthal, Bonnie Bobman, Serena Brown, Jacey Coca, Dennis L. Collins, Annemarie Comes, Barbara Kemp Cowlin, Catina Crum, Jeny Davis, Lee Davis, Kaden Dawson, Talia J Dudley, Laurie Fagen, Michael Feather, Fausto Fernandez, Edgar Fernandez, Jerome Fleming, Miguel Angel Flores, Leilani Gastelum, Jo Ho, Barbara Jakucki, Megan Johnson, Veralyn E. Johnson, Janet Keller, Sami Lange, Sandra Luehrsen, Stacy Marko, Angela Masker, Kathryn Maxwell, Abbey Messmer, Kristen Miologos, Kara Moore, Allison Moyers, Navi Naisang, Rafael Navarro, Hedda Neelsen, Elizabeth Z. Pineda, Tania Ritko, Leanne Smith, Aimee Smythe, Yasmine Spaulding, Ellen Strecker, Tashina Sydney Knight, Hannah Thomas, Charmagne Vasquez, Brianna Voron, Shoreigh Williams, Elizabeth Wittke, Jeremy Yocum
Opening Reception
Friday, May 20, 6-8pm
Come help us celebrate the opening of this cool new exhibition! Refreshments will be served, including wine, beer, and snacks.