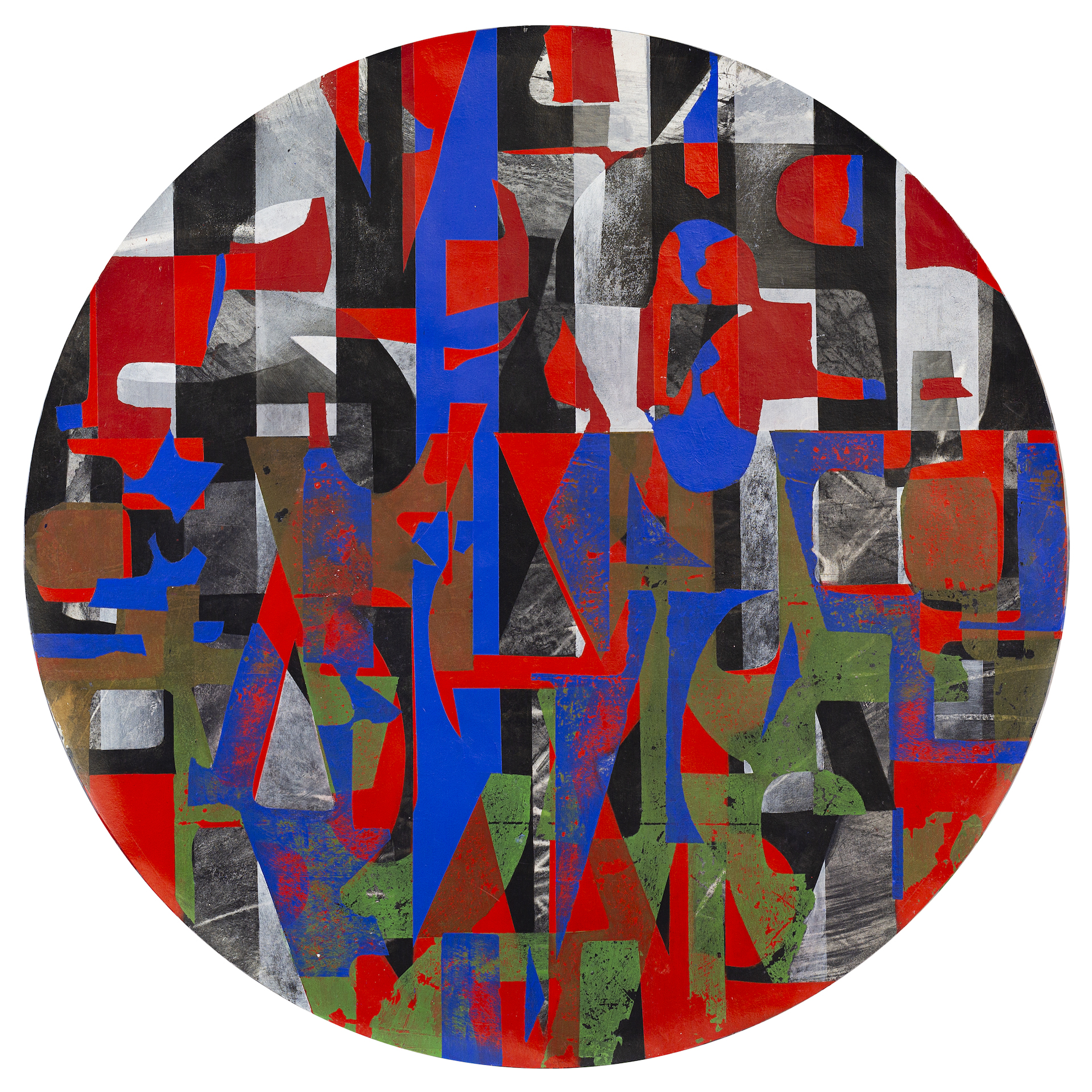 Abstracting Identity: Artwork by Miguel Angel Godoy
October 2, 2021

-

November 13, 2021

|

Free
As a Chicano kid growing up in a military family, Miguel Angel Godoy struggled to find a community as he moved from base to base. That changed when he was introduced to Hip-Hop culture and the breaking (breakdancing) cypher, where he found a community to connect to.  Over time, Godoy's interests evolved from breaking and graffiti to mural art. These shifts in interests led him to pursue an MFA in Painting and Drawing at ASU. As he navigated his MFA program and identity formation as a graduate student, his canvases morphed from square to round, emulating the circular breaking cypher where he felt most at home. At the same time, his children were learning how to read, sounding out words letter by letter, but the once-familiar alphabet began to take on new meaning to Godoy. This meaning-making process created a critical awareness of the negative space between letterforms and their representation.  Godoy began abstracting and overlaying these shapes as a way of offering a new lens into the meaning behind words. His journey through identity formation led him to understand that the abstractions between words, letters, and finding our communities, within each cypher all carry meaning and contribute to our own sense of belonging. In Abstracting Identity, Godoy creates his own visual language to communicate the complexities of being human and finding a space where we belong.
De niño Chicano creciendo en una familia militar, Miguel Ángel Godoy luchó por encontrar una comunidad mientras se mudaba de base en base. Eso cambió con su introducción a la cultura de Hip-Hop y Breakdancing (breaking cypher), donde encontró una comunidad con la cual conectarse. A través del tiempo, los intereses de Godoy evolucionaron del baile break dancing y de la pintura de graffiti, al arte de murales. Estos cambios en lo que a él le interesaba lo inspiró a perseguir una Maestría en Bellas Artes en Pintura y Dibujo en la universidad ASU. A medida que él navegaba por su programa de la maestría y la formación de su identidad como estudiante graduado, sus lienzos se transformaron de cuadrados a circulares, emulando los bailes "breaking cypher" circulares en los que se sentía más como en casa. Al mismo tiempo, sus hijos estaban aprendiendo a leer, sonando palabras letra por letra, pero el alfabeto una vez familiar comenzó a tomar un nuevo significado para Godoy. Este proceso de creación de significados creó una conciencia crítica del espacio negativo entre las formas de las letras y sus representaciones. Godoy comenzó a abstraer y superponer estas formas como una manera de ofrecer un nuevo lente al significado detrás de las palabras. Su trayectoria a través de la formación de la identidad lo llevó a entender que las abstracciones entre las palabras, las letras y la búsqueda de nuestras comunidades, dentro de cada "breaking cypher," todas tienen sentido y contribuyen a nuestro propio sentido de pertenencia. En Abstracting Identity (Abstrayendo la Identidad), Godoy crea su propio lenguaje visual para comunicar las complejidades del ser humano y encontrar un espacio en el cual pertenecemos.
Image: Miguel Angel Godoy, En Contra
Opening Reception / Recepción de apertura
Friday, October 8, 6 – 8pm
Join us for a special party celebrating this exhibition! The CCA bar will be serving beer and wine, a DJ will be spinning B-boy beats, and visitors are encouraged to join the cypher.
¡Únase a nosotros para una fiesta especial que celebra esta exposición! El bar CCA servirá cerveza y vino, un DJ tocará ritmos B-boy y se anima a los visitantes a unirse a la cifra.
View the Exhibition Online
Gallery Guide / Guía de la Galería
Download a copy of our Gallery Guide or pick one up when you visit! This postcard is packed with ways you can explore this exhibition further, including an art-making activity and a link to a slideshow about Miguel's artwork.
Descargue una copia de nuestra guía de la galería o recoja una cuando visite. Esta postal está repleta de formas en que puede explorar más esta exposición, incluida una actividad de creación de arte y un enlace a una presentación de diapositivas sobre la obra de arte de Miguel.