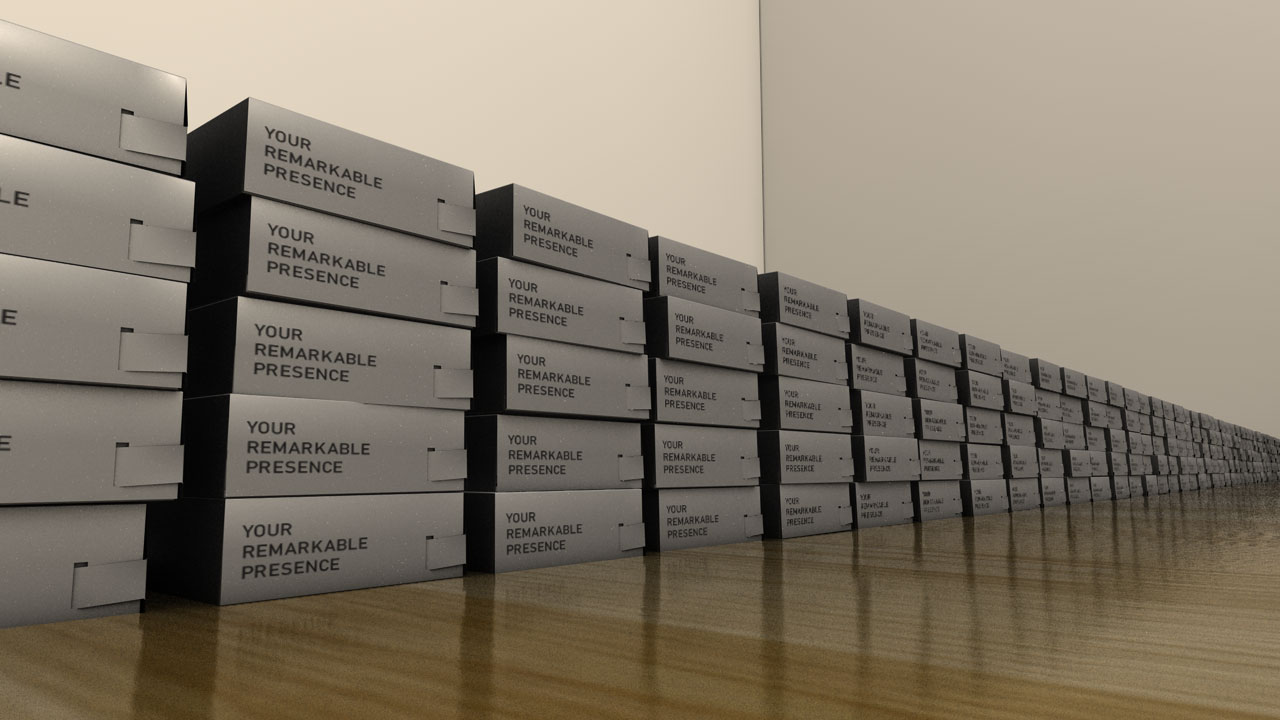 Remarkable Presence
September 23, 2021

-

October 9, 2021
Installation
Remarkable Presence is an art installation by Jen Urso taking place at multiple locations across the Valley. The installation consists of small, numbered paper suitcases representing the total number of COVID-19 related deaths in Arizona. While the main exhibition takes place at Walter Art Gallery in Scottsdale, AZ, Vision Gallery presents a portion of these paper suitcases in a supporting exhibition.
When someone dies, they leave behind all the parts of their life that they couldn't take with them. Family and friends are left with the task of sorting through these objects and deciding what to keep, what to give away and what to throw away. It seems impossible to place value on objects loaded with meaning and past purpose. "As my own sister was dying of cancer during this pandemic, I was the main person to go through this process. I sorted through bags, boxes, bins and suitcases—making difficult decisions on objects that had been kept for another time, but time ran out. I imagined all of the things my sister owned and had ever created being packed tightly into a suitcase and then bursting out of it when opened."
"As Arizona came to lead the world with the highest COVID-19 infection rate, over a hundred people were reported dead each day. For each one of those people, there was a family devastated, like me, who was faced with going through their loved-one's belongings and making decisions. I decided I needed to make something that represents and honors each one of these individuals and to hold events where we could collectively grieve together." The pop-up suitcases on display are a few of approximately 100 made including information from some of the hundreds of obituaries in Arizona where COVID was listed as the cause of death.
Please visit the website for more information on this project or to request to receive a suitcase.
Collective Grieving Event
Saturday, September 25, 4pm-6pm
In addition to this installation, one of several public "Collective Grievings" will be held at Vision Gallery on Saturday, September 25, 4pm-6pm. At this event, the community is invited to receive an empty, numbered suitcase from the Remarkable Presence installation with the agreement to emotionally tend to that person's memory and belongings. Throughout the entire pandemic, families and friends have had to delay their grieving because of limitations on in-person attendance at events. Many obituaries state that "due to covid…" they are delaying services, limiting services or forgoing services altogether. The lack of communal grieving has put us in an even more isolated state of mind as we're forced to be alone, without the comfort of human touch or understanding face. This event serves as a moment to acknowledge our pain, remember those who have passed, and attempt to heal.
"I hope that these events and this work will be an opportunity for us to share in the grief we've experienced over the past year. I hope it will give people the chance to think or talk about the person they miss." – Jen Urso