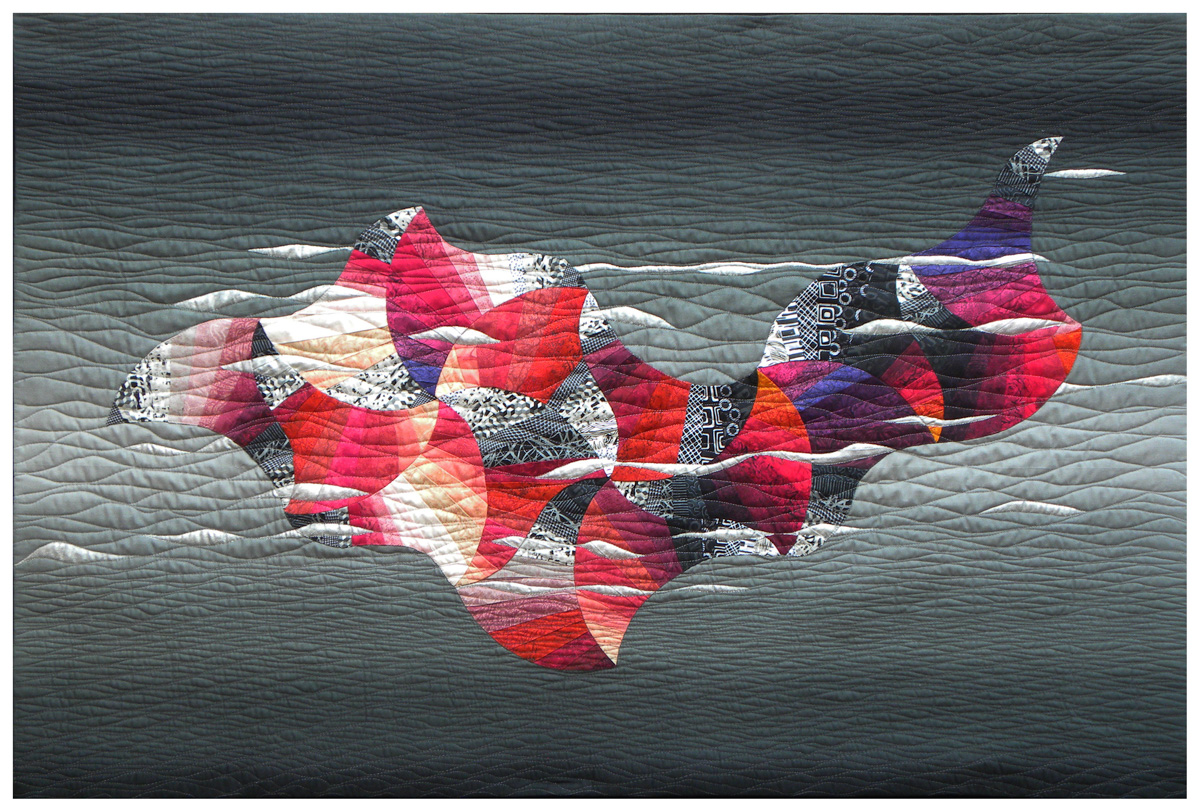 Art Quilts XXV: Fleeting Moments
November 21, 2020

-

December 31, 2020

|

Free
Within the swirl and frenzy of life, there are ephemeral moments that remind us of our inner beauty, our strength, our fragility, earth's wonder, and the cycle of life and decay. Remnants of debris on a pathway, a faded color on a crumbling wall, a glimpse of light and shape in a darkened space, an unexpected texture, a footprint in sand.  Being mindful of these moments and capturing them reminds us of the connections that live eternally beyond us.
Now in its 25th year, this annual exhibition has grown from a local and regional quilt show to a respected vehicle for contemporary works. The yearly exhibition draws national and international entries and allows hundreds of visitors each year to experience quilting as an art form.
Participating Artists
Kim R. L. Baird, Nancy Bardach, Claudia Barner, Sandra Branjord, Betty Busby, David Charity, Patricia Charity, Catherine Clark, Shannon Conley, Vicki Conley, Marian Crane, Linda Engstrom, Laurie Fagen, Debra Goley, Nancy Green, Betty Hahn, Marla Hattabaugh, Georgia Heller, Margit Kagerer, Kathleen Kastles, Debra Kay, Aryana B. Londir, Anne Moats, Frances Oldham Murphy, Frauke Palmer, Margaret A. Phillips, Wen Redmond, Lynn Rogers, Shelley Rothgeb, Brenda H. Smith, Shelly White
About the Juror
Linda Anderson (www.laartquilts.com) tells compelling stories of peoples in many cultures around the world, many images gathered from her travels. Her realistic depictions celebrate the ordinary moments in daily life that often go unnoticed, capturing the essence of the humanity we all share.  Facilitating that connection visually is her goal. Working in her studio in San Diego, she uses fabric, thread and paint to create fine art quilts full of texture and strong visual impact.
Linda studied at Otis Art Institute of Los Angeles County where she earned a BFA and MFA in Drawing.  The artist's many exhibitions, both nationally and internationally, include selection in the National Quilt Museum 25th Anniversary (2016) 2 year traveling exhibit "Gala of the Unexpected" with Dance Break Oaxaca.  A multiple award winner, she has received many 1st place, Best in Show, Outstanding Artistry, Judge's Choice, Viewer's Choice awards, and a Top 8 winner at IQA Houston.  Linda had a full-page article in the Union-Tribune Arts and Culture section in November 2016, was selected as a 'Star of San Diego' in January 2017 San Diego Home and Garden Magazine.  She is published in numerous art magazines, books and catalogs.  Her work is in private collections.
Image: Linda Engstrom, Red Tide, paper-pieced commercial fabrics and fabric paint, 45.5″ x 30.75″
Virtual Reception
View a recording of our live virtual reception for Art Quilts XXV: Fleeting Moments
Exhibition Images