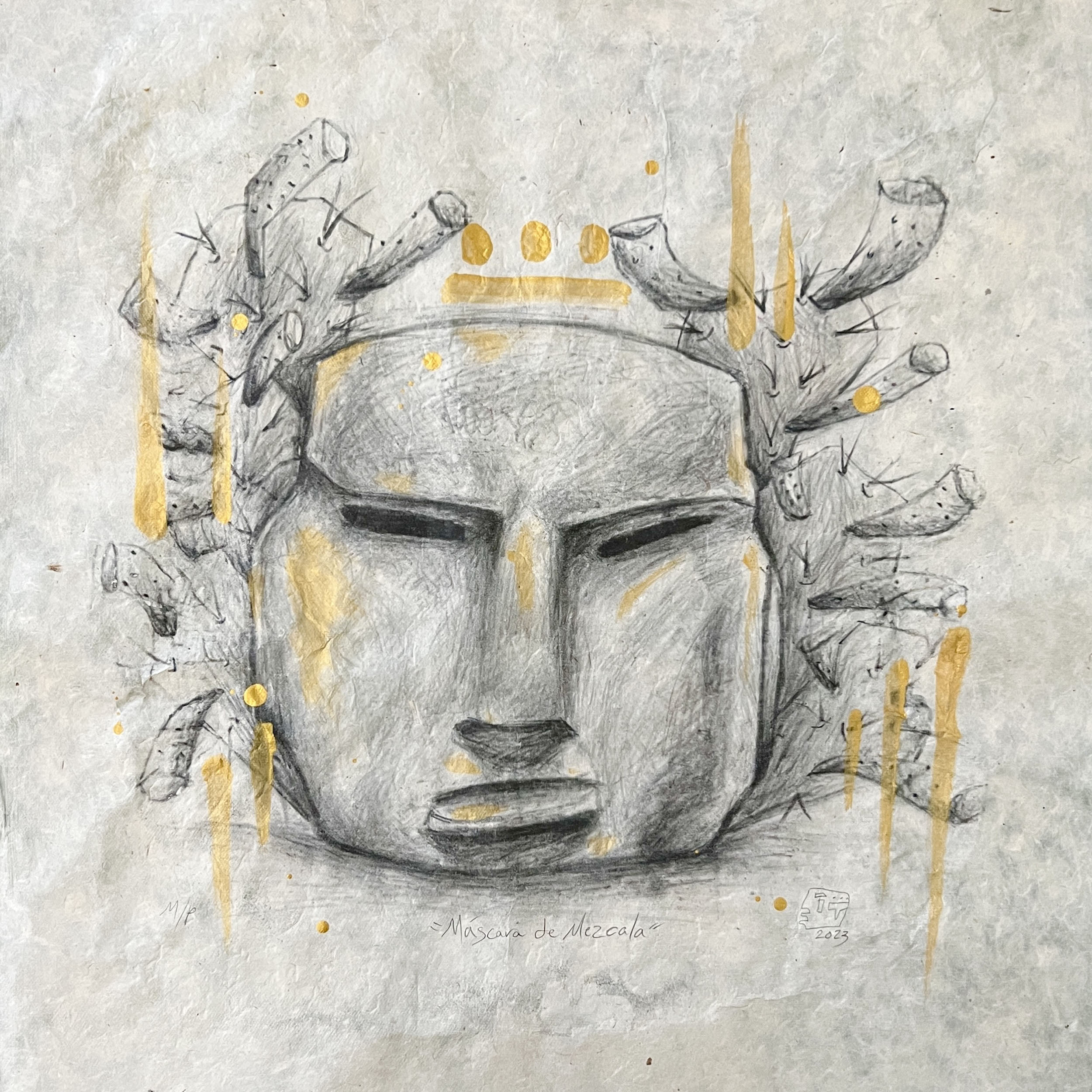 Creations from Within, Vol. 2
August 12, 2023

-

October 21, 2023

|

Free
Taking inspiration from the solo albums of hip hop artists, Edgar 8ahau Fernandez uses Creations from Within, Vol. 2 as an opportunity to showcase his commitment to his craft and display ten years of artistic growth since his first solo exhibition in 2013. Disrupting the myth of the lone creative genius, Fernandez invited a group of artists with diverse talents to collaborate on the exhibited pieces, adding new perspectives and context to his artworks. The contributions from his collaborators are like features, samples, or guest producers on a hip-hop album, each facet further proof that no one makes great work alone.
The works in Creations from Within, Vol. 2 explore the stream-of-consciousness approach that has helped Fernandez express his most authentic self. The disparate works are unified through a symbolic color palette that visually and conceptually connects the images: gold represents light and energy; black symbolizes balance and groundedness; red indicates resilience and ancestral wisdom.  He hopes viewers can tap into their own creative power to transform their stories, their perspectives, and their futures.
Artist Gallery Hours
Fernandez will be holding special weekly viewing hours until the close of this exhibition. Though visitors are welcome to stop by anytime the gallery is open, Fernandez will be available to give individual tours to patrons at the following dates:
Monday, Sep 18th, 1 – 4pm
Wednesday, Sep 27th, 10am – 2pm
Wednesday, Oct 4th, 10am – 2pm
Wednesday, Oct 11th, 10am – 2pm
Wednesday, Oct 18th, 10am – 2pm
Closing Reception
Close out this exhibition with us on Friday, October 20, 5:30-7:30pm! Fernandez will be present to answer questions and discuss the works with visitors. Afterwards, stick around for the Las Cafeteras show at the Chandler Center for the Arts!
Exhibition Photos