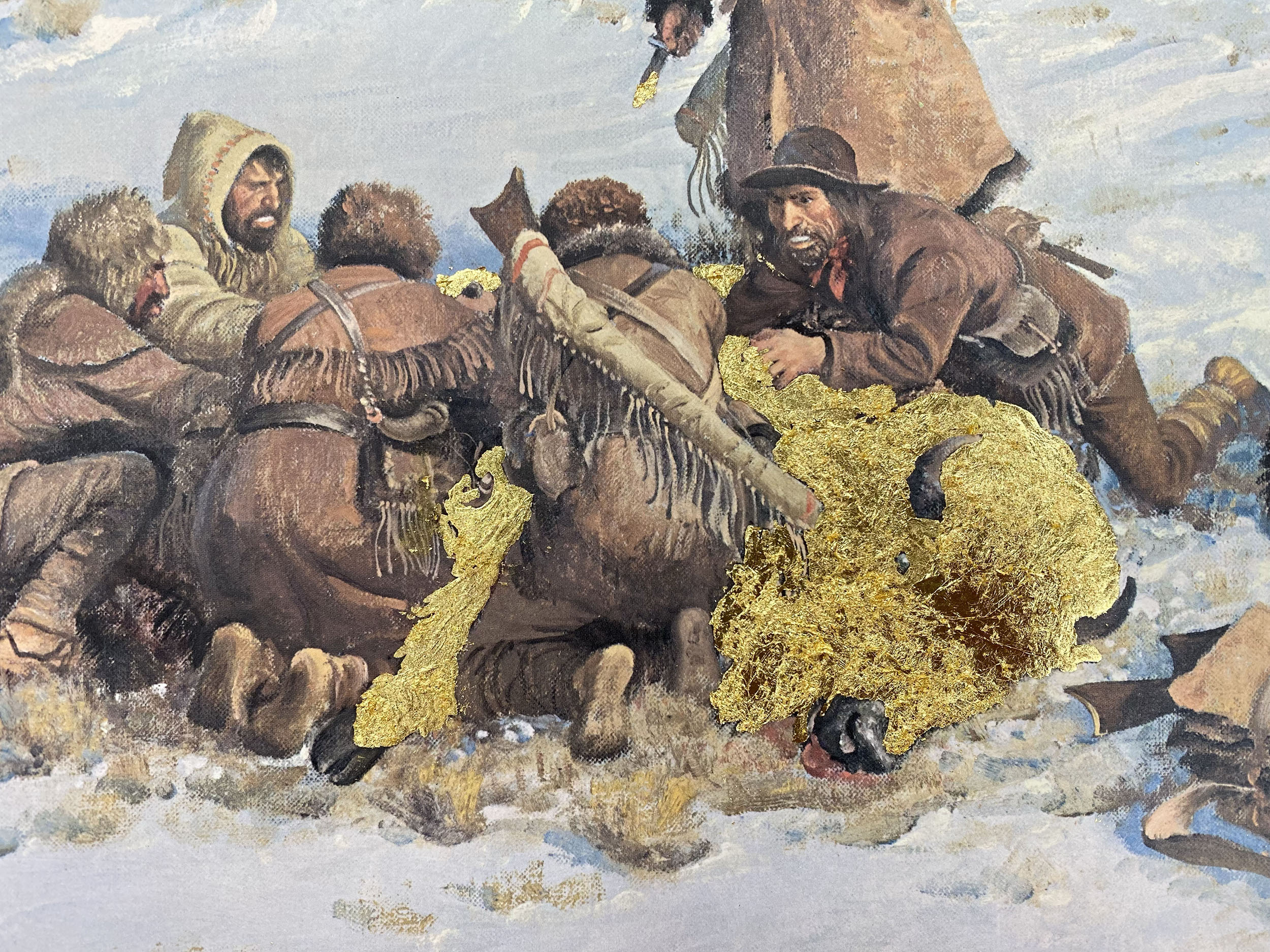 Jacob Meders: Familiar Territory
January 13, 2023

-

March 11, 2023

|

Free
Image by Jacob Meders (detail)
Who gets to tell the story of Indians and cowboys?
This exhibition was inspired by 20th century images depicting glorified moments from westward expansion, a historical period often romanticized from a white perspective. These prints were once part of the City of Chandler's collection but were not exhibited due to their problematic nature. While the original artist John Clymer may not have intended to offend or portray his subjects in a negative light, his imagery still perpetuates stereotypes and presents a one-dimensional narrative about Native Americans. Further, the original representations don't reflect updated cultural understandings regarding the importance of empowering marginalized groups to tell their own stories.
After these prints were deaccessioned from the City's collection, artist Jacob Meders (Mechoopda-Maidu) acquired and updated them to their current status. Viewers will immediately notice the meticulously blacked out figures, and perhaps wonder who they are and why they have been redacted. By removing the subjects from the prints, Meders visually represents federal policies – such as the 1883 code of Indian Offenses – advocating for the erasure of Native lands, language, culture, traditions, religion, and even people. By gold-leafing other areas in some of the prints, Meders highlights a history of resource extraction – led by colonizers – that has devastated our physical and spiritual environment, including the near-extinction of the bison and the receding water levels of the Colorado River, which remains an issue of utmost concern for Arizonans today.
With a deft hand, Meders carefully adds to and subtracts from the prints, centering an Indigenous viewpoint and asking viewers to reconsider the stories they think they know about the history of Manifest Destiny and the American West.
About Jacob Meders
Jacob Meders (Mechoopda/Maidu), MFA, is an Associate Professor in the New College of Interdisciplinary Arts & Science at Arizona State University. Jacob possesses a BFA in painting with a minor in printmaking from Savannah College of Art and Design and a MFA in printmaking at Arizona State University. In 2011 Jacob established WarBird Press, a fine art printmaking studio that he operates as the Master Printmaker in Phoenix, AZ.
Jacob has exhibited his work in Divided Lines at The Museum of Contemporary Native Arts in Santa Fe, NM, 'Aksum Belle:Afterwards at Jackie Headley Art Gallery and Mǝǝmento: Before at Janet Turner Print Museum both at Chico State University, Chico CA, Something Old, Something New: Nothing Borrowed Recent Acquisitions from the Heard Museum Collection at The Heard Museum in Phoenix, AZ, Transcending Traditions at Mesa Contemporary Arts in Mesa, AZ, First Americans: Honoring Indigenous Resilience and Creativity at Museum Volkenkunde, Leiden, Netherlands, Mini Wiconi Goldsmith, University of London and BACA Contemporary Native Art Biennial, Québec, Canada. His work is also collected by major universities and other institutions in the United States and internationally.
Jacob's work focuses on altered perceptions of place, culture, and identity built on the assimilation and homogenization of indigenous people. This work often ties into current issues faced in Indigenous communities. His work touches many interdisciplinary approaches and repeatedly plays with the boundaries of social engagement practices. His work continues to reexamine varied documentations of Native Americans through printing processes that hold onto stereotypical ideas and how they have affected the culture of the native people. Often using book forms and prints as a symbol of western knowledge and the linear mind, Jacob deploys them as a vehicle to challenge new perceptions of Native Americans.
And finally, Jacob is recognized as an influential public speaker and has traveled nationally and internationally to speak on topics within the indigenous contemporary art world.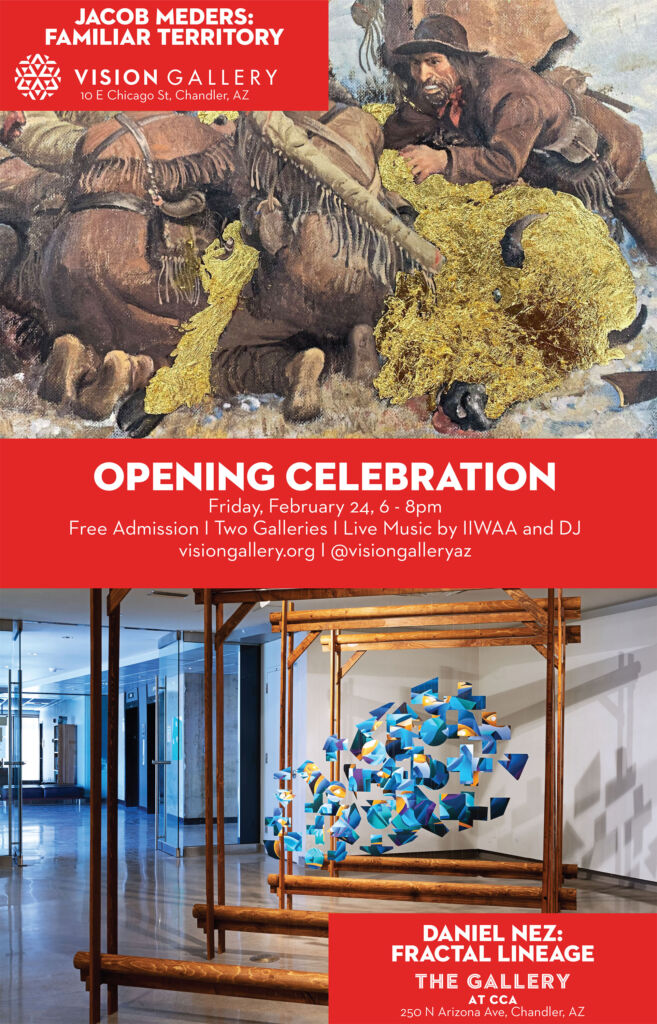 Opening Celebration
Friday, February 24, 6 – 8pm
Join us for the opening celebration for exhibitions in both of our gallery spaces! View Jacob Meders: Familiar Territory at Vision Gallery and Daniel Nez: Fractal Lineage at the Chandler Center for the Arts, with a short 10-minute walk separating both galleries.
Enjoy live music from a DJ at Vision Gallery from 6 – 7pm, and a performance by IIWAA at the Gallery at CCA from 7 – 8pm. Refreshments provided, and a cash bar will be available at the Chandler Center for the Arts.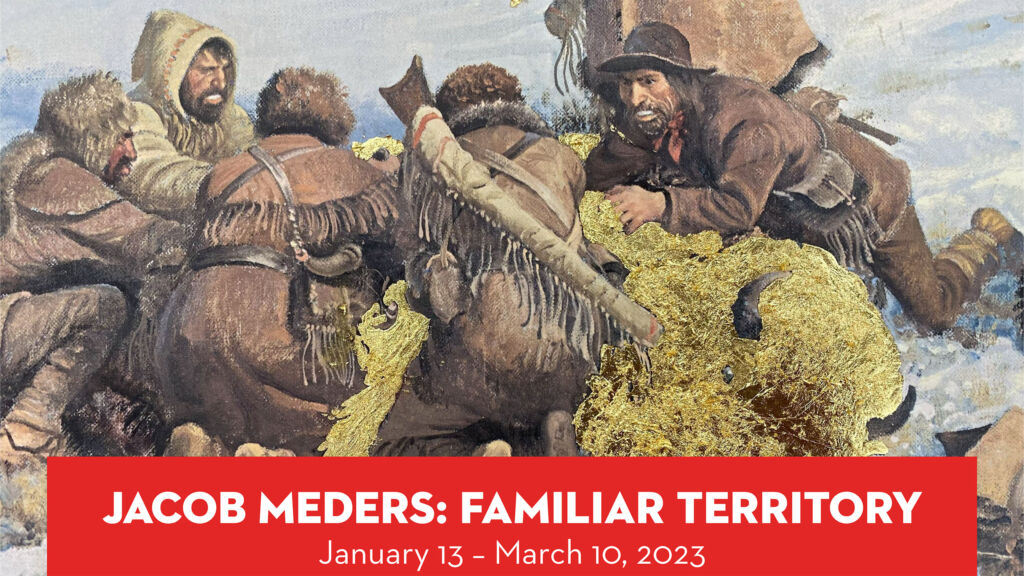 Gallery Guide
Explore further into Jacob Meders: Familiar Territory with our Gallery Guide! This digital presentation for all ages goes in-depth on the themes of the show and inspires further discussion.