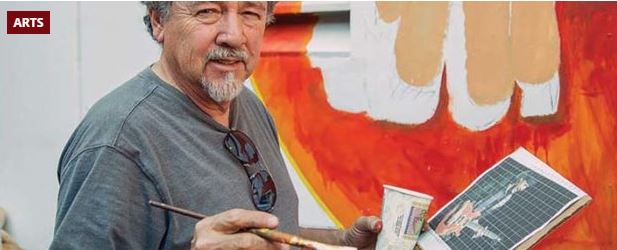 By Kevin Reagan
Staff Writer
Jose Andres Giron has been making artwork for nearly 50 years and he's not planning to stop any time soon.
The 73-year-old Phoenix native has about 40 pieces of his artwork on display at the Chandler Center for the Arts in an exhibit that will run through Oct. 10.
Titled "Escenas de Mexico," or "Scenes of Mexico," the exhibit embraces various aspects of Hispanic culture — a common subject of Giron's work.
He's created paintings of mariachi bands, portraits of Mexican painter Frida Kahlo and prints of Cesar Chavez, the civil rights activist.
Giron has recently been fascinated with exploring the heritage of Day of the Dead, a Mexican holiday that pays tribute to the loved ones who have passed on to the afterlife.
The artist has painted large portraits of women sporting the famous skeleton makeup that's often associated with the commemoration.
He's got a pair of acrylic paintings called "Vida Y Muerte," or "life and death," that display two sides of the same woman. In one of them she's alive, and a skeleton in the other.
Another painting depicts a group of women making tamales around a kitchen table. They appear happy, jovial and enjoying each other's company; despite the fact Giron's painted all of them as boney corpses.
Giron said his Day of the Dead works have gotten quite popular in recent years — possibly in part because of the Disney film "Coco," which prominently features the holiday. He hopes his latest exhibition impresses spectators by showcasing the beauty of Hispanic culture.
"I hope they walk away with positive thoughts about Latino people and their culture," Giron said.