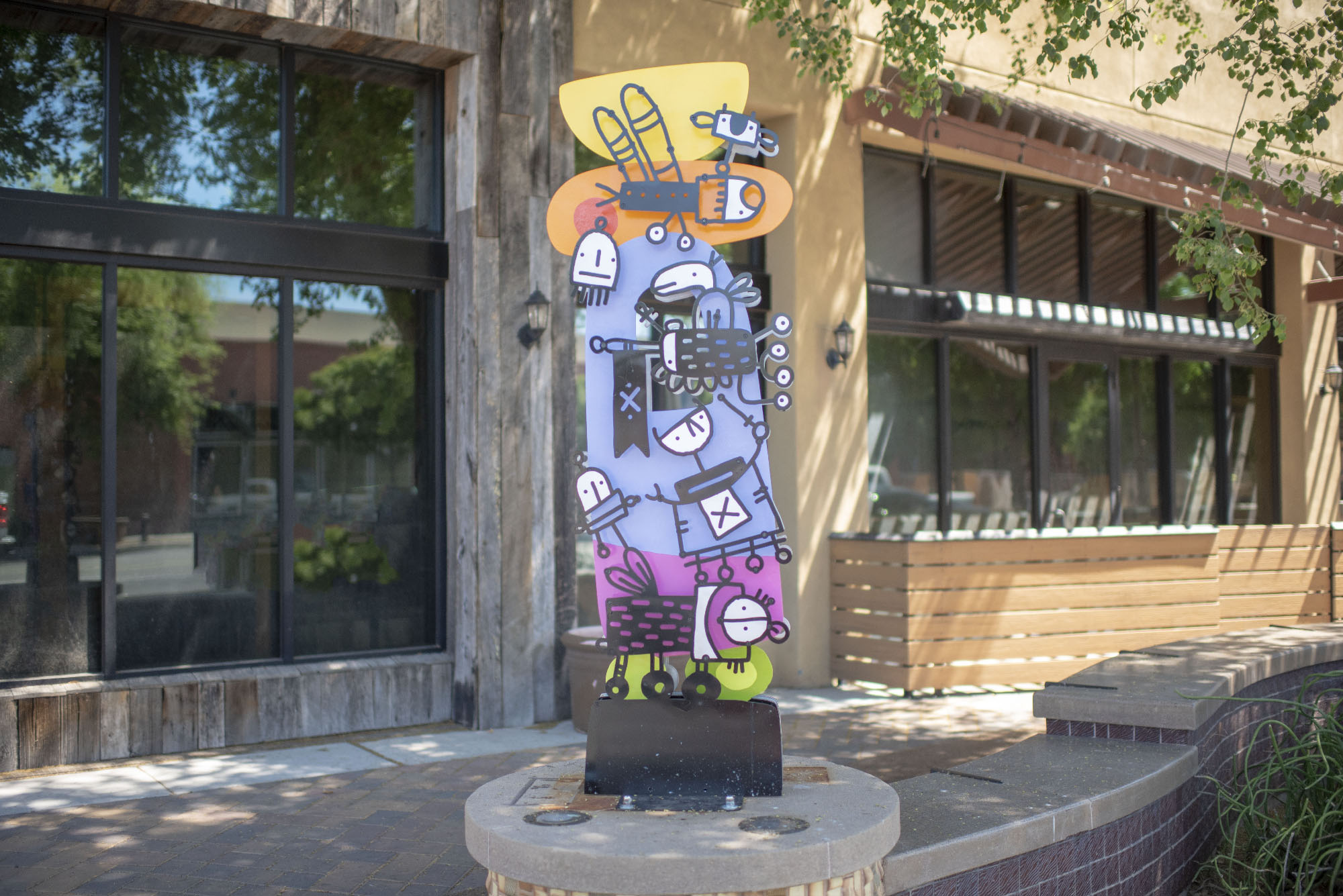 A whimsical take on a Baltic legend brightens a corner in downtown Chandler, thanks to a longtime artist who created a sculpture as part of a Valley collaborative arts partnership.
Pete Goldlust is one of 10 artists chosen to create temporary public artwork in various locations around the Valley through IN FLUX, a strategic partnership between Chandler Arts Commission and five other cities.
The six cities released a collective call for artists to create the artwork to be displayed at art centers, libraries, government buildings and other areas.
Artists of all disciplines were asked to create a proposal to produce art for public display for one year, starting last month.
Goldlust, of Eugene, Oregon, made a sculpture called "Winged Victory (Saule Squad)," which is erected at the southeast corner of Arizona Avenue and Boston Street.
He said the sculpture is named Saule after the sun goddess in Baltic mythology and one of the possible original sources for the fairytale "Rapunzel."
The sculpture is made out of waterjet-cut aluminum and painted with automotive paint. He said his wife, fellow artist Melanie Germond, helped him create the sculpture.
A multimedia artist who lived in Bisbee for about 10 years, Goldlust said he discovered a story about a sun goddess being locked in a tower and his real life also inspired him to create the sculpture.
"It's kind of a totem of imaginary creatures," he said. "I'm kind of a shut-in. I spend a lot of time sitting at home in a darkened room doing artwork stuff, fighting the sun all the time and I found this myth from a Baltic legend about one of the original stories turned into (the) 'Rapunzel' fairytale about this sun goddess that was locked in a tower.
"It's not exactly a direct reference. A lot of my work has to do with creating nonsense, playing with these historical ideas and turning them into my own cartoon-based imagery."
Goldlust said he started with drawings in his sketchbook and then sent them to a fabricator to use a water jet process to cut the aluminum for his sculpture.
The bulk of the work on the sculpture is done by the process of combining and recombining pieces of the drawings together, shifting things around to develop the final design.
With this sculpture, Goldlust said he made a few dozen different drafts before winding up with the "right combination of sketchy cartoon drawings."
"The project in Chandler was a great opportunity for me because I've done these outdoor functional things," he said. "I've never done a freestanding sculpture so this was really exciting to be able to do that."
This is not the first artwork he has created that has been chosen for IN FLUX.
Goldlust had created a digitally printed mural that was displayed in Vision Gallery in Chandler from November 2014 to October 2015.
He also had made a combination of paintings and sculptures that were hung in Scottsdale as part of the IN FLUX partnership in 2010 and his digitally printed mural was picked to hang at a Tempe transportation center through IN FLUX in 2013.
About 75 submitted requests for qualifications from artists hoping to be selected to produce artwork for the six organizations in the six cities involved in the partnership were submitted for this most recent cycle, Peter Bugg, visual arts coordinator for the City of Chandler said.
A special panel with representatives from each city involved in IN FLUX chooses the winning artists. Goldlust received a stipend of $5,000 to create his piece. The artists each received stipends between $5,000 and $10,000 to create their temporary artwork for IN FLUX.
"He showed me what he wanted to do and I said, 'yes, it looks good,'" Bugg said of Goldlust's newest Chandler artwork. "I think it's fun and it's colorful and it's something that I think a lot of people can enjoy."
Goldlust returned the compliment to Bugg and the City of Chandler.
"Peter has been fantastic to work with and I'm super grateful for both the opportunities I've had to work with the City of Chandler," he said, adding:
"Both things…really helped me develop work that I'll end up doing with larger, permanent things. This is a really great opportunity for me to really expand what I do and try something new."
Goldlust has also created public artwork for the City of Tucson – he designed steel furniture and artist Mary Lucking did mosaic work on the ground at a streetcar line stop called "Nancyplants Island."
He also made an exhibit of soft sculptures that is still up at the Children's Museum of Phoenix and he is finishing four pieces for a library in Glendale. Goldlust's work has been shown in venues around the country and abroad including solo exhibitions in Los Angeles and Chicago.
He and Lucking also created a concrete mural displayed in Loveland, Colorado and he credits Lucking for helping him get his start in public art. Goldlust is working on a sculpture for a light rail transit stop for Valley Metro in Phoenix.
While living in Bisbee, Goldlust served as executive director of the Central School Project, a regional nonprofit arts organization. He had previously been a member of the Bisbee's Economic Development Committee (iBisbee).
Goldlust said from a young age he created art.
"It was always something that I did," he said. "The only thing I knew to do was to go into advertising. I had some great fine art teachers that really pushed me in that direction."
Goldlust earned a bachelor of fine arts degree in painting from Syracuse University and a master of fine arts degree in the Department of Art and Technology from the School of the Art Institute of Chicago.
He said he is happy with the location of his new sculpture through IN FLUX in downtown Chandler.
"It's great," Goldlust said. "It's right across from that downtown farmers' market. I really miss the desert. We've bounded all over the country. The desert in Arizona is the most exciting, amazing place we've lived."
The partner cities provided tours of the IN FLUX art installations on April 27. "Hip historian" Marshall Shore served as the emcee for the tour shuttle as it left Park Central on North Central Avenue in Phoenix, visited the artwork in Phoenix, Glendale and Peoria and later traveled to the artwork in Scottsdale, Chandler and Tempe.
The goal of IN FLUX is to reveal a holistic approach to temporary public art via displaying site-specific projects visual artists in various mediums have created.
The partners aim to offer opportunities, experience and education to established and emerging artists who want to get into the public art field.
These art projects give the artists the chance to expand their skills, as well as challenge their creativity and gain public recognition for their work.
IN FLUX forges connections between community organizations, local businesses, city governments, artists and audiences. Scottsdale Public Art started it in 2010 as a measure for temporary art installations in empty storefronts. Artlink Inc., a nonprofit organization, supported Cycle 8 – the latest round of artists' submissions.
By Colleen Sparks, Get Out Staff Writer
Article originally published in the Ahwahtukee Foothills News