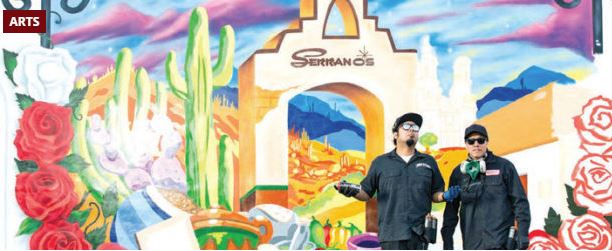 We are so excited to see the new Serrano's mural by Such and Champ Styles featured in the SanTan Sun News! Our staff worked with Serrano's to coordinate the project.
Father, son celebrate Serrano's with colorful mural
By Kevin Reagan
Staff Writer
Noe "Such Styles" Baez used to do his art in the dark of night – hidden from public view and guided only by streaks of moonlight.
His brand of graffiti art was not socially accepted back when he first started, Styles explained. It was the 1980s and spray-painting buildings was considered delinquent behavior.
So, Styles went underground, painting in old train yards and hoping to remain undetected from the cops.
But on a recent afternoon, Styles could be seen painting in broad daylight outside City Hall and across the street from the Chandler Police Department.
There was no reason to hide because he had been asked to paint a mural on the back wall of Serrano's Mexican Restaurant.
The Serrano family is celebrating 100 years of business in Chandler and commissioned Styles to paint a mural that commemorates this milestone.
"This is their story," Styles said, pointing to his panorama of purple desert skies and cactus patches.